NSA gets data from Germany's domestic security agency - reports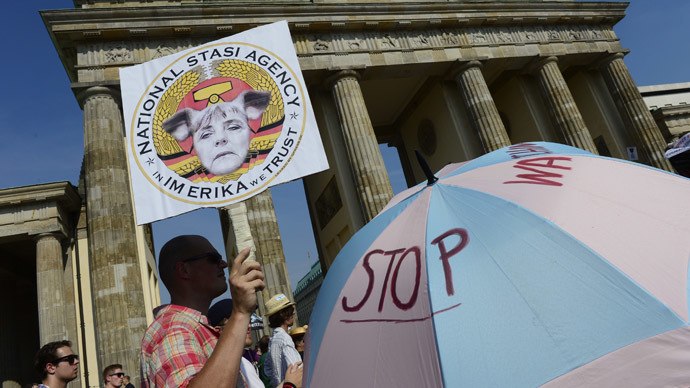 Germany' Federal Office for the Protection of the Constitution regularly hands over classified data to the NSA, media report. The revelation comes as Edward Snowden's leaks show that Germany's foreign spy agencies share troves of data with the US and UK.
Citing secret government documents, Suddeutsche Zeitung reported that Germany's Federal Office for the Protection of the Constitution, charged with domestic security, works closely with the US and regularly sends them information.
The security service gathers intelligence on internal security threats. The documents obtained by Sueddeutsche Zeitung recorded 864 data packages sent to the NSA, as well as regular meetings between officers of the German Federal Office and the NSA.
In response to the reports, the Federal Office confirmed to the newspaper that it works closely with the NSA, but noted that it adheres "strictly to its statutory powers."
"This cooperation contributes to the prevention of terrorist acts and maintaining German security," said Hans-George Maasen, head of the Federal Office.

Previously, US security leaks divulged by former Snowden, a former NSA contractor, revealed that the German secret services share troves of data with their American counterparts, sparking outrage among the German population.
Last weekend thousands of Germans flooded the streets of Berlin to protest the NSA's spying tactics and fight for their right to personal privacy. The event's organizers, Germany's Green Party and the Pirate Party, said that over 20,000 people turned out for the rally, while Berlin's police force said this was an overestimate.
"Our data should be protected and we should have access to information, so we know what's going on," one of the protesters told RT. "At this moment, everything is strictly confidential and we have no way to defend ourselves from surveillance. Today we'd like to show that we will not accept this."
When the news broke about the NSA's mass surveillance program, German Chancellor Angela Merkel claimed she was ignorant of the agency spying on her country and said she had learned about it through press reports. Her initial reaction was to summon US Ambassador to Berlin, Philip Murphy, to account for the reports.
However, in the days following the meeting Merkel's stance softened somewhat. In a press interview Merkel said that although questions and speculation over the US's sweeping surveillance were justified, America remained one of Germany's closest allies.
Merkel stressed that intelligence "has always been and will in future be essential for the security of citizens" of democratic countries. "A country without intelligence work would be too vulnerable."

She also said that a balance should be struck between citizens' freedoms and security.

You can share this story on social media: