130,000 leave Germany due to failing economy, lack of business opportunities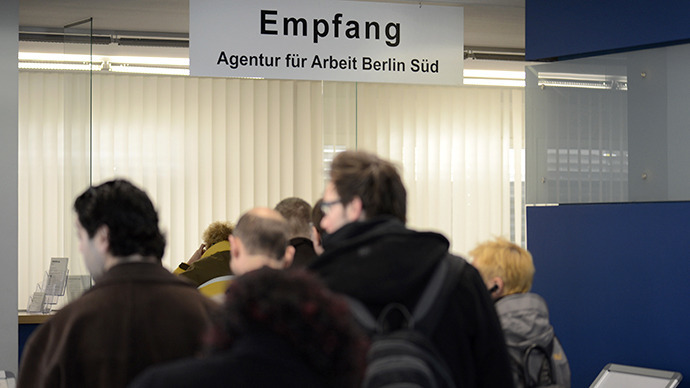 Thousands are emigrating from Germany, one of Europe's strongest economies, to seek opportunities elsewhere, citing "no safety for the future" and overcomplicated business legislation as the reasons behind their decision.
Some 130,000 people – the most in a generation – left Germany in 2012, RT's Peter Oliver reported.

Recent government data has shown that unemployment in Germany climbed by 21,000 in May – four times more than economists forecast. At the end of May, the Federal Labor Office published unemployment statistics showing that 2.96 million Germans (3 percent of the country's population) are currently jobless.

This, combined with mounting economic problems, has forced some Germans to look for career opportunities elsewhere, with Switzerland, the US, Australia and Canada among the top destinations.

Business owner Jens Blecker and his family have chosen to leave Germany for Canada; he will also be relocating his €2 million business.

"Germany is a nice place but right now the future looks really dark, so we are getting out," Blecker said. "All they are doing is taking the debt higher and higher, and breaking their own rules. Look at the laws prohibiting bailouts, as soon as it suited them politically this just went out of the window. As a business man there's no safety for the future."

A Bavarian lawyer identified as Dr. Roth is moving to New Zealand. He slammed Germany's current economic system for its bureaucracy.

"Look at the ten commandments, there are probably around 500 words there," Roth said. "Then look at the regulations on something small, like producing candy in the EU, it's over 10,000 words, most of them nonsense. This will leave Europe like a banana republic with so many laws no one can follow them."

Reports from Moody's Investors Service have reaffirmed this gloomy outlook: In April, Moody's predicted that Germany's gross domestic product (GDP) would only grow 0.4 percent in 2013.

Germany's economic growth declined to 0.7 percent in 2012, down from 3.0 percent in 2011.

Economists say that the country has begun to feel the pinch of the eurozone debt crisis, which has devastated the European Union since 2009.

Germany is considered one of strongest economies in Europe. However, in 2012 its GDP declined more than other member-states such as the Netherlands, Austria, Belgium and Sweden, according to Eurostat.

You can share this story on social media: