​Germany moves to expel jobless immigrants from other EU countries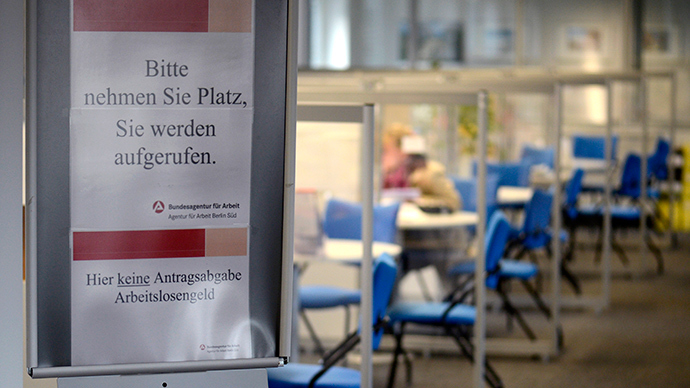 Germany could deport unemployed foreigners if they cannot find a job within three months, even if they are EU citizens, according to a draft proposal being considered by Berlin. Britain may follow suit.
Unemployed immigrants will also have less access to welfare benefits and it will be more difficult for them even to claim benefits in the first place, according to the 133-page report, presented Wednesday. According to the German government, the member states are also "allowed to limit the time that citizens from other EU countries can look for work."
"This [report] should not be understood as an assault on the freedom of movement, which is one of the fundamental EU rights," said Steffen Seibert, spokesman for German Chancellor Angela Merkel.
According to the draft, there are no restrictions on an EU citizen's right to look for work in other EU states. But "after a set time the question arises whether the job hunt can have the prospect of success."
The concerns of the German government are mostly connected with the steady increase of Bulgarian and Romanian citizens who are arriving in wealthier European countries to look for a job and claim benefits. To cope with the situation and to avoid a crisis, Merkel set up a panel to come up with solutions in June 2013.
"The number of immigrants from Bulgaria and Romania in the nation is manageable, but regionally worrying," German Interior Minister Thomas de Maizière said in presenting the report.
"Therefore it is right that we counteract now, so that there is no major damage to the country," he said.
According to De Maizière, although "immigrants contribute to prosperity and development," some regions of the country have seen a worsening of social problems and an increasing burden on schooling, housing and healthcare, due to immigrants from other EU countries.
Meanwhile, the report also proposed to help those German cities which have been most affected by the inflow of immigrants. €200 million ($275 million) of support will be earmarked for these cities over the next seven years, the draft report said.
The report was welcomed by the German Association of Cities. "It's very welcome that the government is now taking the subject markedly more seriously than a year ago," said the group's president, Ulrich Maly.
The final version of the report will be presented in June 2014.
Germany is not the only country to propose tighter rules for immigrants from EU states. UK Prime Minister David Cameron has announced that jobless immigrants would have UK government support payments taken away after six months, and that migrants would be blocked from Britain's council housing waiting lists until they have been in the country for up to five years. From January 2015, the UK government reportedly plans to effectively strip welfare benefits from those immigrants who cannot speak English.
Romania and Bulgaria joined the EU in 2007 and since then, citizens of the two countries have been allowed to work across the EU.
You can share this story on social media: