Majority of Germans recognize accession of Crimea – poll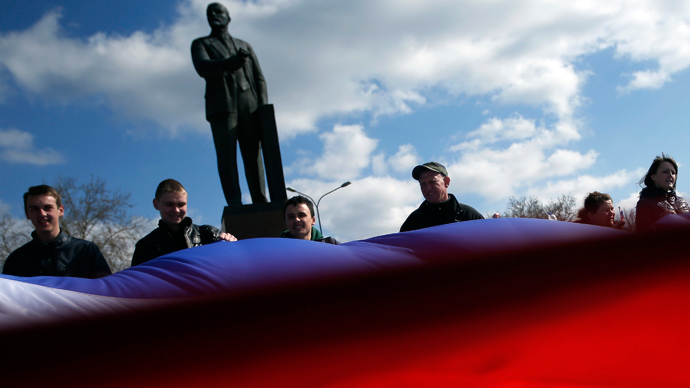 A new opinion poll has revealed that the majority of Germans recognize the accession of Crimea to Russia. At the same time, most of them also view the West's response as appropriate.
The public opinion poll was conducted by TNS Research at the request of Der Spiegel.
According to 54 percent of the German respondents, the West should recognize Crimea's accession as something that has already happened.
Meanwhile, 55 percent of those questioned said that they agree to a certain extent that Russian President Vladimir Putin views Ukraine, notably the Crimean peninsula, as a zone of Russian influence.
At the same time, 60 percent of the respondents stated that they believe the West's reaction to Russia's actions are adequate.
In contrast, another 34 percent answered that the US and the EU's introduction of sanctions was "excessive."
Crimea held its referendum last Sunday, with over 96 percent of voters answering in favor of the autonomous republic joining Russia.
On Friday, Crimea and the city of Sevastopol were officially accepted into the Russian Federation, with President Putin signing the finalizing decree.
Russian lawmakers previously ratified an international treaty with Crimea and the city of Sevastopol, which the sides signed at the Kremlin on March 18.
Crimea's rejoining of Russia was triggered by an armed coup in Kiev, which saw Ukrainian President Viktor Yanukovich ousted and sparked fears that the unrest and far-right violence may spread east and south.
The majority of the population in Crimea are ethnic Russians and Russian speakers. In 1954, a controversial decision of Soviet leader Nikita Khrushchev, himself an ethnic Ukrainian, transferred the Crimea peninsula to the Ukrainian SSR, extracting it from Russian territory.
Following the breakup of the Soviet Union, Khrushchev's "gift" has been widely criticized by many Russians, including the majority of those living in the Autonomous Republic of Crimea.
You can share this story on social media: