Georgia: victims of police crackdown plea for justice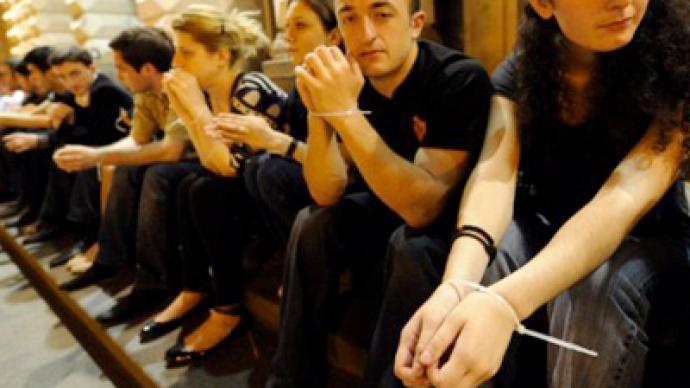 Shock has given way to sorrow in Georgia as families bury the victims of a brutal police crackdown on protesters on the eve of the country's Independence Day.
The incident prompted a worldwide outcry, with human rights organizations demanding a thorough investigation, however there is little hope those responsible will be punished at all.The condemnation for scenes of a violent police dispersal of the demonstrators in Tbilisi came from around the world. Those who were in Tbilisi, suffering under the crash of police batons, and government orders for violence, want an investigation.Tamar Chugodshvili of the Young Georgian Lawyers Association says he is not sure if the investigation will be ever carried out."We had a situation very close to this back in 2007 where excessive force was used against peaceful manifestations, but the investigation was never started and nobody was punished for that," he said.For years Georgia has tried to move westwards, promising democracy, reforms and respect for human rights, but despite being keen to align itself with the West this time it seems Saakashvili's government did not feel they had to play by the rules. "The minimum that the police should do is to leave the space for the agitators to leave the territory, and only after that should police start dispersal," continues Tamar Chugodshvili.However, the scenes from last week's protest showed police surrounding the protestors, all the exits appeared blocked, people had nowhere to go before the tear gas spread, and the rubber bullets hit.Police pursued fleeing protestors from the main street and chased them down to the cinema building nearby, where many of the protestors had taken refuge.All of the cinema's glass front was smashed and police kicked and hit the protestors with their batons as they were led away from the building.They were led away handcuffed, wounded and bleeding – many of them elderly citizens. Later it would be a long time before many of them saw any kind of medical or legal aid."Everyone was running from one side to another, like mice, all the exits were closed by police. I was standing alone, and the rubber bullet hit my eye. From one o'clock until seven in the morning I was in the police station, before a doctor said that I had to go to hospital," said a witness, Besarion Tabatadze.
You can share this story on social media: