Russia, European Commission condemn violence against opposition in Georgia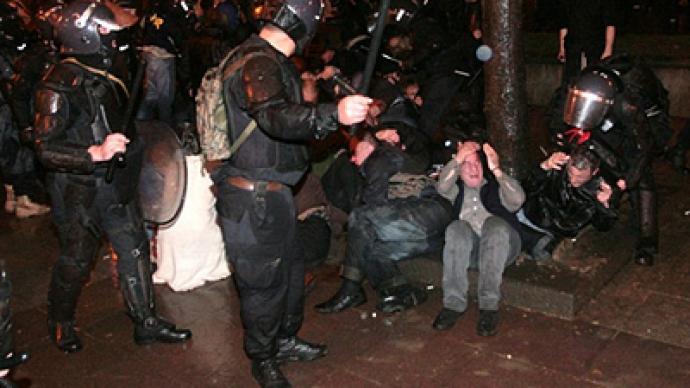 Moscow has blasted authorities in Tbilisi for dispersing a protest rally and urged the international community to investigate the events in Georgia.
The Russian Foreign Ministry described the actions of the Georgian law enforcement agencies as "a flagrant violation of human rights," including the right of assembly and freedom of speech.The international community has already warned the Georgian government against the excessive use of force during peaceful protests, the ministry's official spokesman Aleksandr Lukashevich said on Thursday. The recommendations to the authorities in Georgia were formulated within the First Universal Periodic Review on Georgia at the UN Human Rights Council in January.Russia expects not only human rights organizations, but also states that supported the regime of President Mikhail Saakashvili, to objectively evaluate the latest events in Georgia, he added.Georgia's police on Thursday night dispersed protesters to mop up the territory adjoining the parliamentary building. In the clashes, two people, including a policeman, were killed and thirty-seven hospitalized.Opposition leaders said the methods used by police were disproportionate and cruel. The former speaker of the Georgian parliament and one of the leaders of the Georgian People's Assembly Nino Burdzhanadze described the government's actions as "a crime."Saakashvili, speaking on Thursday on the occasion of Independence Day, accused the protest organizers in recent days of "attempted sabotage, attempts to thwart a military parade and organization of mass disturbances."The European Commission has said that the actions of Georgian law enforcers demonstrate a disproportionate use of force and called for the country's authorities to abstain from violence.EU Commission spokeswoman Natasha Butler said at a press briefing in Brussels on Thursday that the commission was worried by the rise of the political tensions in Georgia and that it was watching the development of the political situation in the country. "We understand a need to maintain law and order, but as we have already told the Georgian government, it needs to be done in a proportionate way," she noted.The official described the clashes between the police and protesters that took place on Wednesday night as cruel and called upon all political forces not to use force. "We reiterate that freedom of assembly is a democratic right and we consider that Georgia should uphold this democratic right," she said.The spokeswoman also urged all sides in the Georgian conflict to settle the conflicts and create normal conditions for the parliamentary elections that will take place in the country next year.
More protests predicted
The Russian media call the split in the ranks of the Georgian opposition as the main reason behind the failure to achieve the declared goals and the following slump in their activities.Aleksandr Torshin, the acting speaker of the Federation Council, the upper house of the Russian parliament, said that the Georgian president still had resources, but the opposition actions in Tbilisi would not be the last. He predicted that the conflict between the Georgian opposition and authorities will reach its peak in autumn.Many people will again understand that nobody needs their production – a similar situation happened in 2007 which resulted in early parliamentary elections, Torshin said.This time, nobody was waiting for a different reaction from the Georgian president, the speaker believes. "What other evidence is needed to show that Saakashvili will to go to every expedient to keep his power?" he asked."The main business of [Saakshvili] is trading hatred for Russia," Interfax quoted Torshin as saying. He said Georgia's economy is "fully destroyed" and only survived on donations made by other countries. The events in that country cause anxiety, the speaker said. He added that the Georgian people will hopefully overcome this "with minimal losses."
You can share this story on social media: