Thousands rally in Georgia demanding Saakashvili's resignation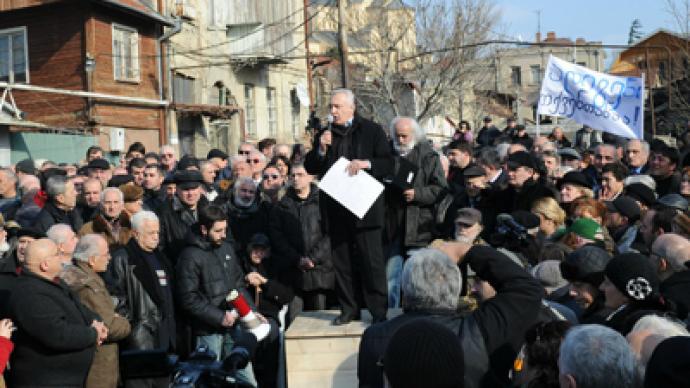 Up to 5,000 Georgians gathered in front of the presidential administration building in Tbilisi. The demonstrators demanded the resignation of President Mikhail Saakashvili, whose term ends on January 20.
"The term of his second reign is finishing today, on January 20, and he has no right to remain in office anymore," one of the organizers of the rally told the media.The protesters waved anti-Saakashvili signs and caricatures of the Georgian leader. There were reports that some demonstrators even threatened to block access to the presidential palace and put up tents until he leaves power."We have appealed to all diplomatic missions and international organizations to show respect for the laws of Georgia, and starting from January 21, not to recognize Mikhail Saakashvili as president of Georgia. From this day on he is an ordinary citizen," said one of the leaders of the social movement "Unity" Michail Andguladze.According to the Georgian constitution, the presidential term is five years. However in 2010 Georgian lawmakers amended the constitution rescheduling the next presidential elections for October 2013."He is not the President of Georgia any more … This Satan has nothing to do in this building anymore," protester Gocha Gurgenidze told Reuters.Protest organizers have been collecting signatures urging Saakashvili to step down. They claim they've collected over a million signatures and will be calling for another mass rally in the next ten days.Saakashvili's National Movement party lost the parliamentary elections in October. His opponent Bidzina Ivanishvili became Prime Minister forcing a difficult cohabitation.But Saakashvili himself believes that his presence at the presidential palace is legal, blaming the government of Georgia for the unrest."The current government of Georgia is busy with holding rallies on a daily basis… I think it would be better if these people were engaged in business, than to constantly talk about the fact that they are at risk, someone prevents them from working, and so they need to get people into street. As a rule, a government, which calls people to the streets, finishes very quickly and in a very painful way. That's my historical reading, but not a threat," said Saakashvili at a press briefing earlier on Thursday when commenting demands for his resignation.Saakishvili is Georgia's third president in the 20 years since the fall of the Soviet Union. The previous two leaders – Zurab Gamtsakhurdia and Eduard Shevardnadze – were both toppled. Gamtsakhurdia was dethroned in a civil war, while Shevardnadze was forced to resign after the so-called Rose Revolution.
You can share this story on social media: