Georgian opposition readies itself for decisive day of protests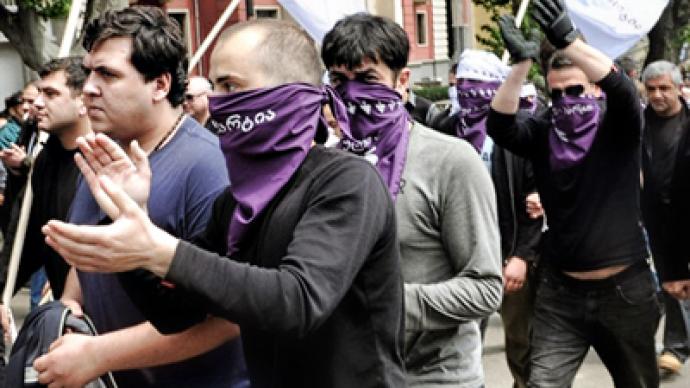 The Georgian opposition continues to rally with the goal of ousting incumbent President Mikhail Saakashvili and holding early presidental and parliamentary elections.
Demonstrations in Tbilisi continue around the clock as protesters camp out at the Public Television office day and night. An opposition group from the Black Sea resort city of Batumi joined protesters late into the night on Monday.The opposition claims that interior ministry forces dispersed innocent people with tear-gas and rubber bullets.Nevertheless, the main opposition leader Nino Burdzhanadze says that people will continue to protest even if the government uses force."We are fighting for democracy, we are fighting for better future for everybody in Georgia, including soldiers and the army. We do not want to live in neo-bolshevik country. I know the government will use any king of force it can if they are sure that this is the only way for them to survive.  But at the same time, I know that the Georgian people will persevere despite the terror which the government directs against them every day. Every minute we are receiving information that our supporters have been kidnapped or arrested…I am sure we will achieve our goal – the resignation of the president as well as free and democratic elections in Georgia," she said. Wednesday was expected to be the culmination of what the opposition considers to be a revolution as two separate rallies were planned for this day. Nino Burdzhanadze's Democratic Movement-United Georgia Party planned the rally against the parade in honor of the Day of Independence at  Freedom Square. Also on Wednesday, the radical "Party of Georgia" has promised a "day of rage," which hopes to put an end to Saakashvili's presidency.However, it has recently been reported that the "Party of Georgia" called off its anti-government demonstration in order to keep the two rallies separate.   According to a party spokesperson, they were unable to reach an agreement with Nino Burdzhanadze. It was also announced that one of the leaders of the "Party of Georgia", former Georgian defense minister Irakly Okruashvili, is not returning to Georgia for the rallies.  Okruashvili, who is wanted by Georgian law enforcement after a conflict with Saakashvili, currently lives in exile in France.  Previously he had expressed his intention to return and oust the president by Wednesday. The Georgian opposition has been protesting for the fourth straight day now. Mass anti-government demonstrations started on Saturday when about 5,000 people gathered in the center of Tbilisi demanding  regime change.
You can share this story on social media: