Not so rosy in Georgia now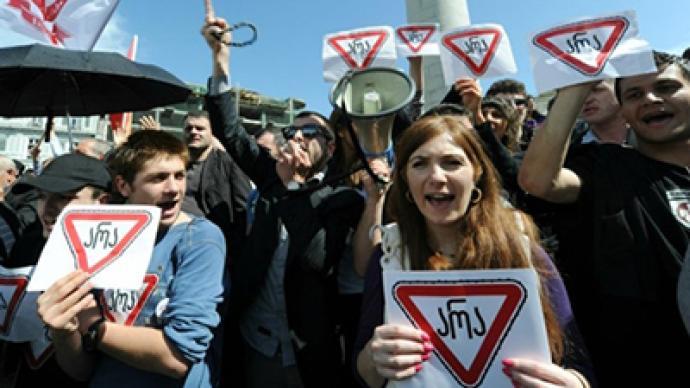 More than 5,000 people have gathered in Georgia's capital to demand that President Saakashvili step down. Demonstrators in the center of Tbilisi called on the world to open its eyes to what is happening in Georgia.
Early on Sunday morning, the opposition claimed that special forces had broken into their office in the city of Batumi, detaining dozens of opposition members, and injuring twelve.Batumi also hosted a rally on Saturday that attracted 2,000 protesters.The opposition say the current regime has taken away people's democratic freedoms, claiming Saakashvili's continued presence at the top puts the whole region at risk.After the rally, the protesters in Tbilisi moved on to the Georgian Public Broadcaster (GPB) demanding a live broadcast to address the people of Georgia. The Georgian Public Broadcaster met the demand and made several live broadcasts on Saturday night from the opposition rally of the National Assembly. The opposition called it a small victory, reports the Georgian news agency. The live broadcast featured Nino Burdzhanadze, ex-parliamentary speaker and leader of Democratic Movement-United Georgia party, addressing the rally, saying she is not "afraid of snipers" and  "is ready to sacrifice her life" and calling on the people to join the protests.Georgian media reports the protesters attempted to storm the headquarters of Georgia's Ajaria region's TV station, but police opened fire from the building, forcing people to flee. No other details of the reported incident were given.Former chess champion and opposition leader Nona Gaprindashvili said that Saturday's rally is the start of Georgia's "liberation" from the Saakashvili regime."We don't have the right to witness the destruction of our motherland by Saakashvili's regime, which blatantly tramples our faith and our traditions. It is Saakashvili who is to be blamed for Georgia's breakdown and he should be held responsible for this," she said.Meanwhile, Nino Burdzhanadze, said the police had detained hundreds of activists on their way to central Tbilisi. She added that the opposition had expected many more people to show up at the rally, but not all could come due to being prevented by government forces."We are protesting about neo-bolshevism in this country. We are living in the neo-bolshevik country right now and all talks about democracy are just talks," said Burdzhanadze. "We are fighting for democracy, for justice, for free and fair elections. Hundreds of supporters, hundreds and hundreds of supporters of the National Assembly have been arrested, beaten and kidnapped during the last three years, including this morning," she continued.Ever since Mikhail Saakashvili rose to power with what later became known as the Rose Revolution of 2003, his interests have clearly pointed west. Yet a legal system based on fairness and justice does not seem to be a priority. Previously, opposition rallies have been violently suppressed, and demonstrators detained.
You can share this story on social media: