"Revolution has started in Georgia" – opposition leader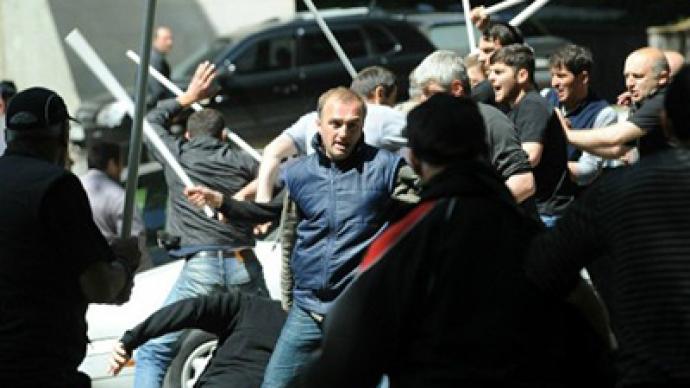 Following the thousands-strong protests this weekend, Georgian opposition leader Nino Burdzhanadze has claimed a revolution provoked by the government has started in the country.
Around 2,000 people protested near the Georgian Public Broadcaster's offices in the capital Tbilisi on Sunday. They were demanding the current government's resignation in order to conduct early parliamentary and presidential elections. Contrary to expectations, there were fewer protesters than on Saturday."We had a lot of problems during the pre-rally period. The government resorted to terrorist methods, terrorizing our supporters. They were kidnapping people, they have arrested hundreds of people, tens of people have been injured and beaten," former speaker of the parliament and leader of the Democratic Movement-United Georgia Party, Nino Burdzhanadze told RT on Sunday.After two days of protests, the leaders of three oppositional parties – Nino Burdzhanadze of the Democratic Movement-United Georgia Party, Nona Gaprindashvili of the People's Assembly, and Sozar Subari and Levan Gachechiladze of the Party of Georgia, – met to express their commitment to continue rallying on Monday.The opposition says the current regime has taken away people's democratic freedoms, claiming President Mikhail Saakashvili's continued presence at the top puts the whole region at risk."We are protesting about neo-Bolshevism in this country. We are living in the neo-Bolshevik country right now and all talks about democracy are just talks," said Nino Burdzhanadze. "We are fighting for democracy, for justice, for free and fair elections. Hundreds of supporters of the National Assembly have been arrested, beaten and kidnapped during the last three years, including this morning." Burdzhanadze said the revolution in Georgia has already started and it was the country's government that provoked it, as cited by Itar-Tass news agency.Another notable opposition member, former Georgian defense minister, Irakly Okruashvili, who was forced into exile after a conflict with President Saakashvili, promised to put an end to the regime on May 25 – the day when another major anti-government protest is scheduled. "I can promise two things – I will be in Tbilisi on May 25, and this will be the last day of the incumbent authorities," Okruashvili told the Georgian Maestro TV station. Leader of the Party of Georgia, Sozar Subari, echoed Okruashvili who was one of the party's founders."The government doesn't care a dash about people, this is why we should fiercely struggle against those anti-national powers. We should be together, and on May 25 we'll put an end to Saakashvili's regime," he said, adding that Saakashvili's only means of subsistence is terror.Early on Sunday morning, the opposition claimed that the country's Special Forces had broken into their office in the Black Sea resort city of Batumi, detaining dozens of opposition members, and injuring 12. The opposition said about 300 people have been detained over the past two days.The Interior Ministry says eleven people have been arrested. According to Burdzhanadze people were being arrested not only in Tbilisi and Batumi, where the most violence protests took place, but also in other cities.  Riot police are said to have been using tear gas and rubber bullets to disperse rallies. "The government is acting like criminals," said Nino Burdzhanadze. "They cracked down the demonstration which has been sanctioned by the government itself. So, we are acting according to legislation.  We are not doing anything illegal. It was an absolutely peaceful manifestation. So they are pushing violence, they are beginning a revolution. They used illegal force against peaceful demonstrators. We have a right to protect ourselves, we have a right to protect our values, we have a right to protect our members and we have a right to live in normal democratic country," she said.On Saturday the People's Assembly movement supporters were protesting on Freedom Square in Tbilisi. In the evening protesters moved to the Georgian Public Broadcaster's premises. About 5,000 people have taken part in the rally in the capital, and Batumi also hosted a rally that attracted some 2,000 protesters. Nino Burdzhanadze was one of the leaders of the "Rose Revolution" that occurred in November 2003 and led to regime change in Georgia, after which Mikhail Saakashvili became president. In recent years, Burdzhanadze has opposed the regime of Mikhail Saakashvili, who started his second term as president in 2008. This is not the first time Georgia has faced mass protests due to the dissatisfaction with the current authorities. Opposition forces in Georgia criticize Saakashvili for failing to deliver on his economic and political promises, and they say the human rights situation in the country is a major concern.
You can share this story on social media: