Gay rights activists celebrate Moscow Mayor's birthday with protest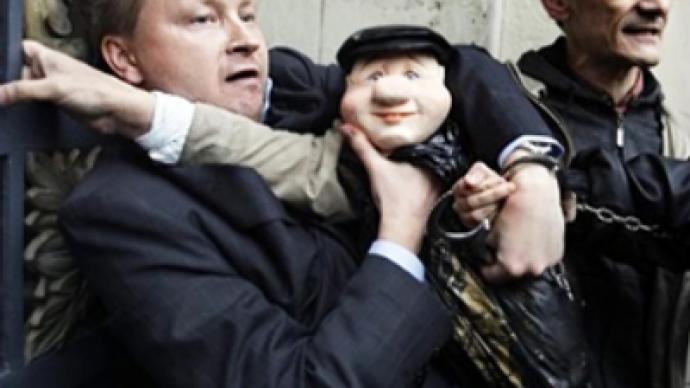 On Tuesday, a protest meeting in the center of Moscow was dispersed when activists shouted "Luzhkov is gay!" using a Russian pejorative term. The formal pretext for the gathering was Luzhkov's 74th birthday.
The Moscow mayor is known for his harsh opposition to multiple attempts to organize gay parades in Moscow, even calling such events "satanic."
Throughout the demonstration, the protesters were chanting "Luzhkov is gay" (pejoratively).
According to the activists, up to 50 people gathered on Tverskaya Street for the protest.
Activists cuffed themselves to the fence around the Moscow City Administration headquarters. They brought a puppet symbolizing the mayor and a sign saying "Luzh[kov] and [his] wife are indeed of the same breed," referring to accusations in corruption and wrongdoings, thrown at the couple recently by several major Russian TV channels.
According to Moscow City Internal Affairs Department, three activists were detained, but their leader Nikolay Alekseev gives a higher figure – 11. They were accused of participation in an unauthorized meeting and released, but were summonsed to attend civil court later.
Last Friday, the permit for the gathering was refused, and on Tuesday policemen warned the activists that the meeting would be suppressed. However the protesters still came to exercise their right to freedom of peaceful assembly, established in Article 31 of the Russian Constitution.
The chanted slogan was chosen based on one of Luzhkov's interviews, in which he called gay rights activists the pejorative Russian form of the word "gay". The offended party appealed to Moscow City Court, but in its ruling the court determined that this word was not considered offensive.
You can share this story on social media: