Police defends construction site from opposition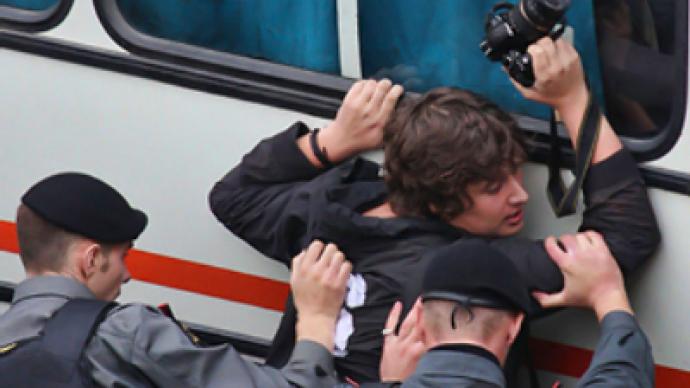 Law enforcement agencies have dispersed another unauthorized opposition rally in downtown Moscow held in support of Article 31 of the Russian Constitution.
Police detained on August 31 about 30 participants of the event, including organizers Boris Nemtsov, Eduard Limonov, Konstantin Kosyakin and Sergey Udaltsov.
Article 31 of the Russian Constitution guarantees the freedom of assembly, and human rights activists and opposition leaders hold rallies on the last day of each month that has 31 days.
Prominent human rights activists Lyudmila Alekseyeva left the place of the rally because she did not see a way to hold it, Ekho Moskvy radio said.
Four deputies of the European parliament were also expected to take part in the rally. Documentary film director Andrey Nekrasov and one of the organizers of the action told Interfax he had invited human rights sub-committee head Heidi Hautala of Finland, her deputy Laima Andrikiena of Lithuania, Thijs Berman of the Netherlands, and Kristina Partelpog of Estonia to attend the rally. The European Parliament's delegation, which is now in Moscow, is heading to the North Caucasus.
Police had tightened security ahead of the rally, fencing off Triumfalnaya Square. Construction work of a planned underground parking lot started there recently.
Moscow Police deputy head Vyacheslav Kozlov had warned that law enforcement forces would act in accordance with the standard scenario. "We will ask the rally to disperse and explain to the people that it is illegal. Those who fail to obey will be removed from the square," he was quoted by Interfax as saying.
However, Mayor Yury Luzhkov said on August 31 that the Moscow authorities consider applications of opposition forces without "a special attitude." All political forces should observe the law, he added.
The mayor stressed that the city officials has reject applications made by many groups including youth organizations supporting the government's policies.
As the construction work began, the authorities stopped issuing permissions for rallies on Triumfalnaya.
Minor rallies were held in several Russian cities. In downtown St. Petersburg, police also dispersed the rally and detained several participants.
The events in support of the Article 31 are also expected to be held in New York, London and Tel Aviv.
Sergey Borisov, RT
You can share this story on social media: