Gaddafi son wants to surrender to The Hague – NTC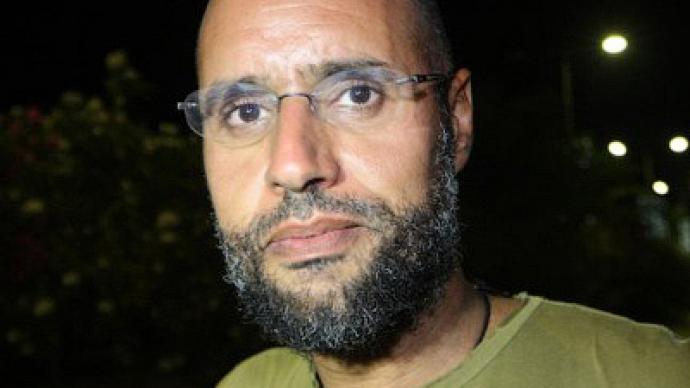 Former Libyan leader Muammar Gaddafi's son and heir apparent, Saif al-Islam, and ex-intelligence chief Abdullah al-Senussi have reportedly suggested turning themselves in to the International Criminal Court in The Hague.
The news comes from NTC senior Libyan military official Abdel Majid Mlegta, as quoted by Reuters.Since NTC forces took control of Sirte, Gaddafi's hometown, the colonel's son has remained in hiding. He is believed to be somewhere near Libya's southern border with Niger.According to the NTC official, Saif al-Islam and Senussi are trying to broker a deal to surrender to the court through a neighboring country. Which country that might be, however, has not been revealed.  Mlegta claimed that they feel unsafe both in Libya and in neighboring Niger and Algeria, where some Gaddafi family members have already found refuge. In any case, he added, they said that Niger was asking for too much money for them to stay.Saif al-Islam, like his deceased father and Senussi, is wanted for war crimes. The ICC issued arrest warrants for the three of them in June on charges of crimes against humanity, after the matter was referred to the court by the UN Security Council in February. The charges were made in connection with the Libyan regime's violent crackdown on protesters that month.As to what is behind Saif al-Islam's decision, political analyst Samir Awad told RT that it is likely that "he has seen what happens to anyone linked to the Gaddafi regime or his family if they fall into the hands of rebels, who are completely disorganized and who abide by no law."The analyst suggested that Gaddafi's son may have decided that instead of living as a fugitive for the rest of his life, he would rather surrender to The Hague. "There he can he can have two things which his father and brother did not have – a safe house and a just trial," he said. "And I think that both things are also to be expected for him since now he is a liability to the Tuareg tribe that holds him, instead of being an asset," Awad said.He also stated that "if human rights law is going to be applied… in Saif al-Islam's case, [he is] going to be treated fairly."Similar comments came from independent journalist Stephen Brown."He will feel safer in a European prison than in Libya – his and his father's enemies simply want to kill him, as many members of his family and kin," Brown said. "He is heading to safety, but also NATO and the NTC don't want to see him make it to Niger, where the pro-Gaddafi forces might be able to regroup and then launch a guerilla war inside Libya."
But others say it is far from certain that Gaddafi's relatives could find justice in The Hague, and some analysts are warning thatthe chances for a fair trial are rather slim.
You can share this story on social media: