Highest-profile Gaddafi son in hands of NTC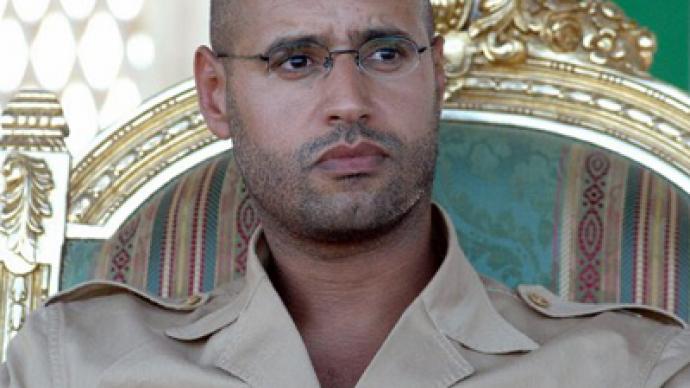 Colonel Gaddafi's highest-profile son and heir apparent, Saif al-Islam, has been captured in the western Libyan town of Zliten. Earlier, Gaddafi's son Mutassim was killed along with his father.
According to al Arabiya news channel, the NTC says it will show the pictures of Saif al-Islam after bandaging his wounds. Saif al-Islam, who was reported either killed or captured in the capturing of Sirte, was thought to be at large in the desert, a member of the National Transitional Council earlier told Al Jazeera TV network. Thirty-nine-year-old Saif al-Islam is the second son of Muammar Gaddafi and carried out public relations and diplomatic roles for his father. Western-educated and the most-recognized Libyan official, he was often viewed as Colonel's successor and a possible reformer.In June the International Criminal Court in The Hague charged Muammar Gaddafi, his son Saif al-Islam and military intelligence chief General Abdullah al-Sanoussi with crimes against humanity for the torture and killing of civilians, and issued arrest warrants for them. Now reportedly in the hands of revolutionaries, Saif al-Islam could face a trial.In the interview given to RT in July, Saif al-Islam dismissed the charges against him and questioned the authority of the ICC."It's a fake court. Under the table they are trying to negotiate with us a deal. They say if you accept this deal, we will take care of the court. What does that mean? It means this court is controlled by those countries which are attacking us every day! It is just to put psychological and political pressure on us. That's it. Of course, it won't work. The court is a joke here in Libya," he said.Gaddafi's son regretted that Libya gave up developing long-range missiles and condemned the West for turning back on Libya."Our example means one should never trust the West and should always be on alert – for them it is fine to change their mind overnight and start bombing Libya," Saif al-Islam told RT."One of our biggest mistakes was that we delayed buying new weapons, especially from Russia, and delayed building a strong army. We thought Europeans were our friends; our mistake was to be tolerant with our enemies," he concluded.Read more on the fate of other members of the Gaddafi family.
You can share this story on social media: