Gaddafi vs. NATO: Dying by the sword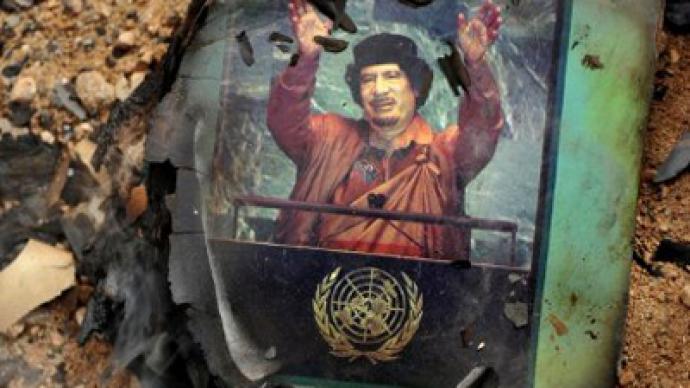 The death of deposed Libyan leader Muammar Gaddafi on Thursday brings to life the old saying that those who live by the sword, die by the sword. But what did the eight-month civil war mean for one of modern history's most controversial leaders?
February 17 would mark the beginning of the end for Colonel Muammar Gaddafi. After the arrest of a prominent human rights activist sparked riots in the eastern port-town of Benghazi, anti-government forces began to take shape, quickly coalescing into the National Transitional Council (NTC).  His real troubles began a month later, however, when the United Nations Security Council voted to authorize military action against Libya in the form of a no-fly zone, ostensibly to protect civilians under threat from Gaddafi's forces. For Gaddafi, UN Security Council Resolution 1970 was invalid since, in his words, "the Security Council is not entitled to interfere in the internal affairs of any state."In an exclusive interview with RT conducted on the eve of the NATO bombing campaign, Gaddafi outlined how the West had been duped by Al-Qaeda forces seeking to take control over Libya.  "How can the UN Security Council and the whole world decide, based on media reports? It becomes clear that the terrorists themselves, Al-Qaeda, had sent their reports about it to the news agencies. It is now difficult to change world public opinion and perception of what is going on. The situation is believed to be in crisis, desperate and problematic. As for us, we consider this not a Libyan crisis, not a Libyan disaster and not a Libyan problem."I believe the world built its stance based on reports from mendacious news agencies, and now it wants to save face in retreat. Even the US Secretary of State admitted they had been building their position on media reports. You should have sent a commission to investigate the facts and then decided," Gaddafi said.By then, his problems were only beginning. On April 30, as the Western military campaign intensified, Gaddafi's embattled government announced that a NATO strike in the capital of Tripoli had killed his youngest son Saif and three of his grandchildren. There were also claims that Gaddafi was in the house at the time but managed to escape.After fighting intensified through the summer, rebel forces would eventually take Tripoli on August 21.  Always defiant, Gaddafi went on state television, vowing to stand his ground in Tripoli as he urged his supporters to rise up against the "rebel rats."  However, it was clear from that point on that the real NTC hunt for Gaddafi had begun. And though the NTC announced his imminent capture on several occasions, Gaddafi managed to evade it for almost two months.  Less than a week after the capital fell, his wife, daughter and two sons would flee to neighboring Algeria. On the same day, his youngest son Khamis was reportedly killed by a NATO helicopter in Tripoli. Pro-Gaddafi television initially denied he had been killed, though last Saturday they finally released a statement mourning his August 29 death.From that point on, Gaddafi remained out of the spotlight as fighting was reduced to a few pockets of loyalist resistance in Sirte and Bani Walid, which raged on well into October.  Fighting in Bani Walid finally came to an end on October 17.  And as speculation that he had fled the country circulated for months, while speaking before a town hall-style gathering two days ago, Secretary of State Hilary Clinton told the crowd "we hope he [Gaddafi] can be captured or killed soon so that you don't have to fear him any longer," cites the Associated Press.  Clinton's wish came true more quickly than even she might have imagined.And if anything, the death of a man Ronald Reagan once described as "mad dog" in his hometown of Sirte showed that the colonel was willing to stand his ground until the end.However, Gaddafi did not always believe it would come to this. In the same March interview with RT, he expressed his belief that the West would ultimately experience a change of heart and spare his regime to stabilize the geo-politically crucial country. "Indeed, stability, the absence of any Islamic radicalism, unrest etc – this situation in Libya is in their interests."Besides, Libya is a gate to the West from where millions of people from Africa are trying to penetrate Europe. On this issue, we are in co-operation with European countries.Libya is an oil-producing country in a very important region. Nobody is interested in having problems with oil, because that will cause a price increase, which we have been observing at present. The West is not interested in unrest or destabilization in Libya," he maintained.Whether he was delusional or had simply miscalculated the West's ever-changing interests in the region, that was one point on which his strategic miscalculation might have proved fatal.And now with reports of his death marking the end of the eight-month civil war, it remains to be seen what a truly post-Gaddafi Libya will mean for the region and the world. 
You can share this story on social media: