French robber blasts his way out of prison, takes four guards hostage
Published time: 13 Apr, 2013 18:32
Edited time: 13 Apr, 2013 19:50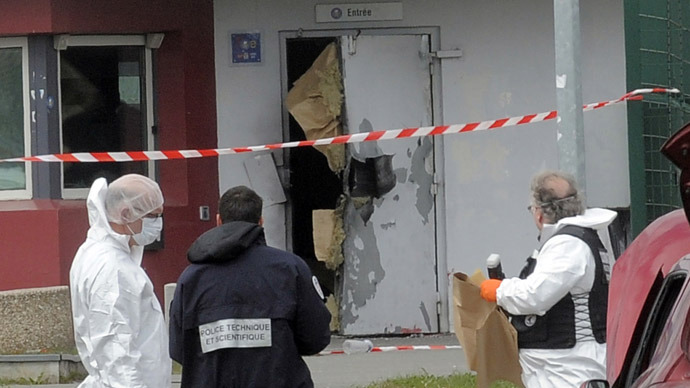 A well-known French robber Redoine Faid blasted five doors and took four prison guards hostage to make his way out of a prison in northern France. The police have launched a manhunt, describing the escaped prisoner as "particularly dangerous."
Faid, notorious for armed robberies of cash-in-transit vehicles, staged a dramatic and "very well organized" escape from the prison in the French town of Sequedin, the police and local officials said on Saturday.
For the start, Faid used smuggled explosives to blast through five prison doors. He then took four prison wardens hostage as he was making his way through the jail.
The criminal released one the hostages just outside the prison. He then let go another one some hundreds of meters away, and left the remaining two next to a motorway. All were reportedly left in shock, but unharmed, state prosecutor Frederic Fevre said, as cited by AFP.
Meanwhile, the escaped robber jumped into a getaway car and sped to the town of Ronchin, south of Lille. There, he got into another vehicle – but not before setting his first car on fire.
French police and gendarmes on Saturday afternoon said they are still trying to trace the second car the robber used. They also issued a warning saying Faid's a "particularly dangerous prisoner," he's thought to be armed, and might still be in possession of explosives.
The explosives in question might have been given to Faid by a woman who visited him on Saturday morning, according to a prison unionist. The lawyer for the robber's ex-wife has denied she was in prison on Saturday.
Notorious robber and co-author of an autobiographical book describing a young criminal's life in the suburbs of Paris, Faid was sentenced to 18 years in prison in 1999. He then was released on parole in 2009, but was taken back just two years after in 2011 on suspicions of masterminding an armed robbery in which a young policewoman was killed. Faid was due to serve the eight years remaining from his original sentence.