French defense budget cuts may hit 'expensive' and 'useless' Republican Guard
Published time: 8 May, 2013 14:00
Edited time: 8 May, 2013 14:16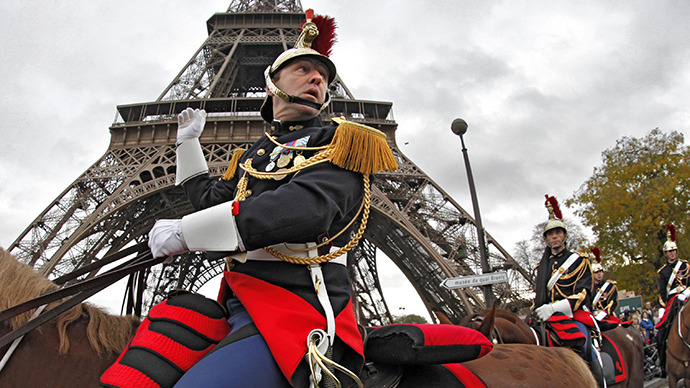 "Unable to resist attack without assistance," is how a watchdog report described France's prestigious Republican Guard in a damning report. It recommended the downsizing of the force amid sweeping cuts to France's defense budget.
Cour des Comptes heavily criticized the Republican Guard, which stands watch outside the Presidential Palace in Paris. Their report suggested that the Guard – which plays a mostly "symbolic" and "prestigious" role in French society – should be revised and downsized, as it represents a drain on funding that could be better spent elsewhere.

"The Cour recommends that a general review of the role of the Guard with a view to reducing the number of recruits to those strictly necessary for security purposes," the report said. The Cour calculated that the Guard spends 69 percent of its time protecting national palaces, but lack adequate training to fend off an actual attack.
The Republican Guard comprises 2,959 soldiers, and costs around €280 million a year to maintain.

French Interior Minister Manuel Valls wrote in a statement responding to the recommendations, saying he was in favor of implementing the cuts in order to better defend sites "particularly vulnerable to potential terror attacks."
Recently, France was forced to enact cuts to its military budget amid the ongoing eurozone crisis. The government announced that it was cutting 34,000 jobs in the armed forces by 2019 as part of a new 'flat budget strategy' outlined in a five-year plan published in April. 
The initial plan to shrink the size of the French military were slammed by government officials as "madness," with many claiming it would leave the country vulnerable to attack.

Despite the economic troubles, the French armed forces intervened in Mali in January, lending 4,000 soldiers to fight Islamist militants in the north of the country. In April, the French National Assembly and Senate voted unanimously to extend the campaign in the African nation, fueling fear of a drawn-out and expensive conflict. 
Unemployment in France is currently at a record high: 3.22 million, the highest since 1997.