Prophet motive: French weekly office firebombed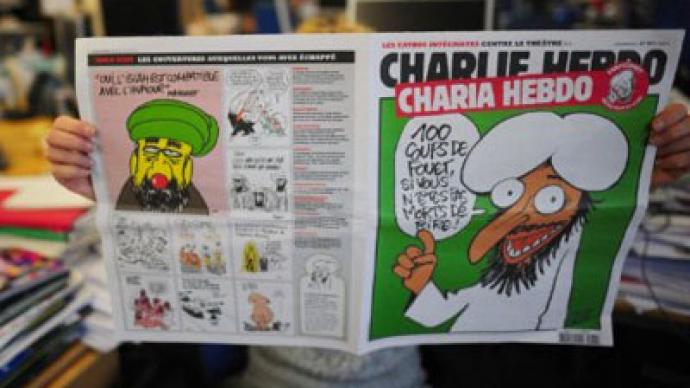 The office of a French satirical newspaper was firebombed early Wednesday morning in Paris, French police say. The attack comes a day after the bitingly satirical weekly named the Prophet Mohammed as its "editor-in-chief" for this week's edition.
The attack occurred around 1am (CET). According to a witness, Patrick Pelloux, a Molotov cocktail was thrown through the office window of the Charlie Hedbo weekly, setting fire to the computer system, AFP news agency reports. While no injuries were reported, the damage was extensive.Occurring simultaneously with the attack, the Charlie Hebdo website was also hacked. Extremist messages posted in both French and Turkish read: "You continue to offend the almighty Prophet of Islam with disgusting and disgraceful cartoons using freedom of speech as an excuse."Charlie Hebdo's editor in chief, who goes by the name Charb, was indignant over the attack.  "We will file a complaint of course, we won't let the Islamists get away with this. This is a case of intelligence meeting with idiocy, and humor drawing violence," he told French media.Police are currently searching for two suspects who were seen near the scene of the fire.  The highly-irreverent paper, founded in 1960, is widely known for its anti-conformist, left-leaning take on social, political and religious issues.But for some, the decision to name the Prophet Mohammed as its editor and show his image in the newspaper was a step too far.According to Islam, It is strictly forbidden to depict any image of the Prophet Mohammed.Lampooning both the victory of an Islamist party in last month's Tunisian elections, as well as fears Sharia Law is gaining a foothold in Libya, Charlie Hebdo supposedly asked Mohammed to be guest editor, as the weekly was temporarily renamed ``Sharia Hebdo.''The front cover  features a picture of Mohammed saying: "100 lashes if you don't die of laughter!"A picture of Mohammed wearing a red clown nose adorned the back cover, along with the statement: "Yes, Islam is compatible with humor."But despite its sometimes lighthearted if biting nature, the newspaper carries a strongly secular message, claiming democracy is incompatible with religion.   The weekly had previously received criticism for reprinting the notorious Danish Cartoons of the Prophet Mohammed that sparked riots around the Muslim world in 2007.  While the paper was sued for inciting ethnic hatred by two separate Islamic groups, it was ultimately acquitted by a French court.
You can share this story on social media: