Two French journalists kidnapped and killed in Mali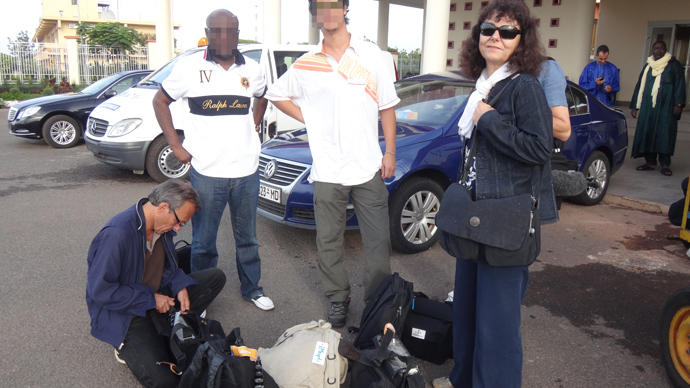 Armed gunmen in Mali have abducted and killed two French journalists who were working for Radio France Internationale (RFI) in the northern town of Kidal.
Reporter Ghislaine Dupont and sound engineer Claude Verlon were kidnapped by unknown gunmen after they interviewed Kidal resident Ambeiry Ag Rhissa, a leader of the Tuareg separatist group National Movement for the Liberation of Azawad (MNLA).

"When they left, I heard a strange noise outside. I immediately went out to see and when I opened my door, a turbaned man pointed a gun at me and told me go back inside," Rhissa told Reuters. "I could not see how many men were there," he said.

RFI, France 24's sister radio station, has confirmed that both journalists were kidnapped in front of Rhissa's house after the interview at around 1pm GMT.

"They were put into a beige four-wheel drive vehicle and the kidnappers fired shots in the air and told Rhissa to go home," RFI said.
So shocked, sad and appalled about our 2 RFI colleagues kidnapped and murdered in northern Mali. My thoughts with their family and friends

— Cath Norris-Trent (@cntrentF24) November 2, 2013
Local governor Adama Kamissoko said the journalists were abducted "by four men driving a 4x4 Toyota."

The journalists' driver, who was pushed to the floor, heard Verlon and Dupont protest, according to RFI.

The kidnappers' vehicle was chased by security forces, possibly including the French army.

"A few minutes after a pursuit began for the abductors of the two French, we were informed that their bodies were found riddled with bullets outside the town," local official Paul-Marie Sidibe said.

The bodies were recovered about 12 km (8 miles) outside the town. This information was confirmed by both a senior MNLA military official and a Mali security source.

The French Foreign Ministry has also confirmed the death of the two journalists.

"The French government, in conjunction with the Malian authorities, will make every effort to find out as soon as possible about the circumstances of their death," the ministry said in a statement.

French President Francois Hollande on Saturday "expressed his indignation over this despicable act," according to a government statement.

Hollande is expected to meet with ministers Sunday to determine "the conditions of the killings."

It remains unclear who is responsible for the killings or what their motive was.
 
Kidal - a small town of roughly 10,000 people - is a disputed area, as Mali's army continues to take part in battles with ethnic Tuareg nomads. Kidal also houses a Malian army base and French troops, as well as 200 UN peacekeepers.

It was not Dupont or Verlon's first time in Mali. Last August, they traveled to Kidal to report on Mali's presidential election.