France warns of 'massive' response if Syria uses chemical weapons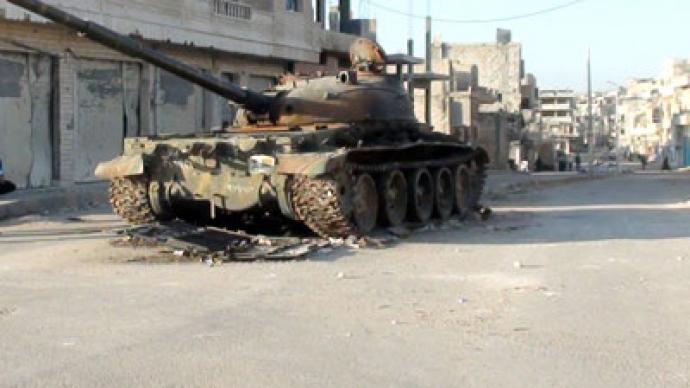 The West will retaliate harshly if the Syrian army deploys chemical weapons, France's foreign minister said Monday. Damascus vowed not to use its chemical arsenal against its own people, but left the option open in the event of a foreign invasion.
The Syrian army is believed to possess stockpiles of nerve agents and mustard gas, and the Scud missiles capable of delivering them. If Damascus chose to use their biological or chemical weapons, "our response … would be massive and blistering," French Foreign Minister Laurent Fabius said on Monday during an interview with RMC radio. Western countries are monitoring the movement of chemical weapons in Syria and are prepared to "step in" immediately, Fabius said: "We are discussing this notably with our American and English partners."In August, US President Barack Obama said that if Syrian President Bashar Al-Assad used or transported chemical weapons, it would be "a red line" for Washington. This position was widely echoed by the UK and France, with French and British politicians urging the UN to investigate Syria's chemical strike threats.France has intensified its hawkish rhetoric since Washington's declaration. "What's at stake goes beyond Syria. It concerns the security of the Middle East and especially Lebanon," French President Francois Hollande said a week ago.Fabius declined to comment on Friday over whether Paris or Washington would intervene first if Syria were discovered to have moved its arsenal. "I shall keep it secret," he told radio station Europe-1.The possibility of the Assad regime using chemical weapons has stirred international concerns, even among nations that have taken a moderate stance the Syrian conflict. Russia held several urgent negotiations with Damascus requesting assurance that the country's chemical and biological stockpiles are properly guarded, and will not be moved or deployed. On Monday, EU foreign policy chief Catherine Ashton declared that "the risk of a chemical weapons deployment today remains high." Though the remarks were supposedly a statement about the use of the weapons worldwide, she was referencing the ongoing Syrian crisis.Following numerous unsuccessful negotiations between the country's warring factions, Moscow reiterated its noninterventionist stance concerning the Syrian conflict: "We hope nobody would resort to any kind of foolishness," Russia's Foreign Ministry said, adding that military intervention is unacceptable.