Storm of criticism hits France after Interior Minister disowns Roma migrants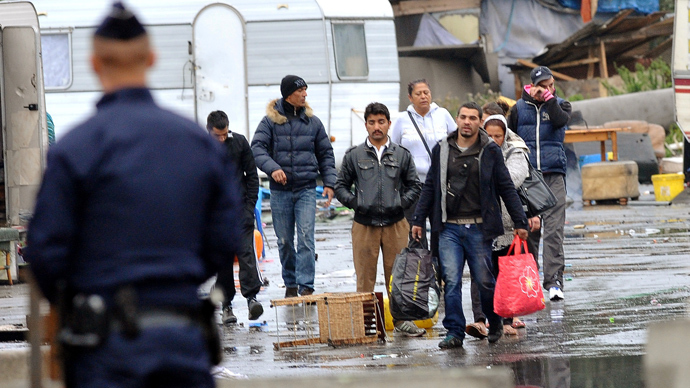 France has come under fire from the European Commission after Interior Minister Manuel Valls said Roma migrants "are due to return to their motherlands" because of their lifestyle, which is "in confrontation" with the French way of living.
"They should return to Romania or Bulgaria and for that the European Union, with the Bulgarian and Romanian authorities, must ensure these populations are firstly integrated in their countries," Valls said. "It's illusory to think that we can resolve the problem of the Roma population solely via insertion (into French society)."

Valls also said he would support the dismantling of "veritable slums" where Roma people live, often in makeshift camps, as there is "no other solution" to the problem.  

"I approved the dismantling of these veritable slums that represent a danger both for the people of Roma origin, but also of course the people who live in working-class neighborhoods," Valls said.

However, he then added, that only a "few families" could be allowed to settle.

Despite a wave of criticism, which followed his comments Tuesday, Valls refused to take his words back the next day.

"We don't have the obligation to welcome these populations; we need to say it clearly and calmly. It is not about stigmatizing a population, but facing the truth," he said.

In response to Valls' harsh comments, the European Commission issued a rare public rebuke to France, threatening to punish the country over its Roma policies.

"Free movement, like the freedom of residence in another country, are fundamental rights," EC spokesman Olivier Bailly said. "The fact that Bulgaria and Romania are not members of [the Schengen zone] in no way impedes their citizens from movement within the EU in the name of fundamental freedoms."

France has been insisting on not giving Romania and Bulgaria full access to Europe's Schengen zone, which allows passport-free travel. But starting 2014, when the two eastern European countries enter the zone, Romanian and Bulgarian citizens will be given free movement within Europe's labor market. So far, France and seven other countries have imposed restrictions.

European Commissioner for Justice and Fundamental Rights Viviane Reding accused the French government of using immigration issues and tensions over the Roma people to distract public attention from more serious economic problems ahead of upcoming elections.

"There's an election in the air in France," Reding said on France-Info radio. "Every time people want to talk about important things like the budget or debts, we find the Roma."

Roma, who are also known as Gypsies, have been blamed by some politicians for a rise of criminality and an influx of beggars, especially in the tourist areas of Paris.


'Record number of forced evictions'

Meanwhile, the controversy around the Roma people coincides with a new Amnesty International report that reveals that more than 10,000 Roma people were evicted from informal settlements during the first half of 2013.   
 
"France makes no provisions for effective protection against forced evictions. In most cases they take place in a climate of hostility with no alternative housing proposed. Roma people are condemned to a life of constant insecurity, and forced to wander from one of makeshift camp to another. Forced evictions should be banned in law," said John Dalhuisen, Europe and Central Asia Program Director at Amnesty International.

There are some 20,000 Roma migrants living in France – mostly from Romania, Bulgaria and the former Yugoslavia. Almost all of them have been forced to flee their home countries by "chronic poverty and discrimination they face" there.

The Roma camp in Lille, the largest informal camp in France, was home to about 800 people. The local authorities evicted the residents, promising alternative accommodation for less than a dozen families. However, according to the report, "only three have received it to date."

You can share this story on social media: