Non bon voyage: French rail system paralyzed by strike after air travel chaos (PHOTOS)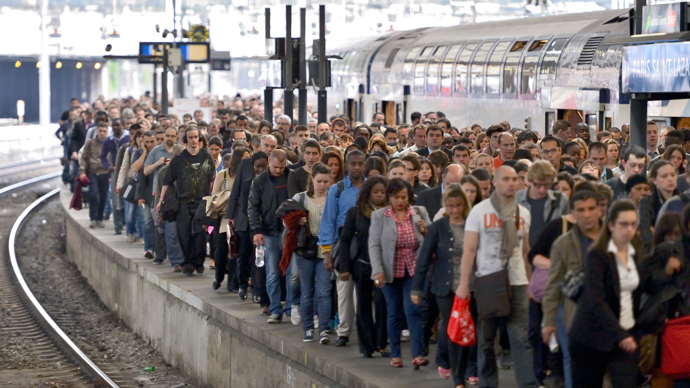 French rail workers have gone on strike, paralyzing 70 percent of rail services and throwing the country's transport into turmoil, immediately following an air traffic strike which grounded over a thousand flights.
Transportation in France has been crippled by thousands of striking workers this week, with aviation strikes leading to the cancelation of flights, and rail workers strikes leaving swarms of travelers stranded in stations.

The widespread strikes mean that some 70 percent of train services will have been canceled by Friday. Parisian commuter trains are almost at a standstill, with only around a third of trains running in the capital.

Rail workers are protesting over the reorganization of national train and rail companies. President Francois Hollande recently announced plans to merge national train operator SNCF with RFF (rail network Réseau Ferré de France). Their nationwide strike action, which officially began on Wednesday night, also paralyzed international travel.

Only half of the departures to Switzerland have been running and a third of the scheduled trains to Italy have left the country's borders.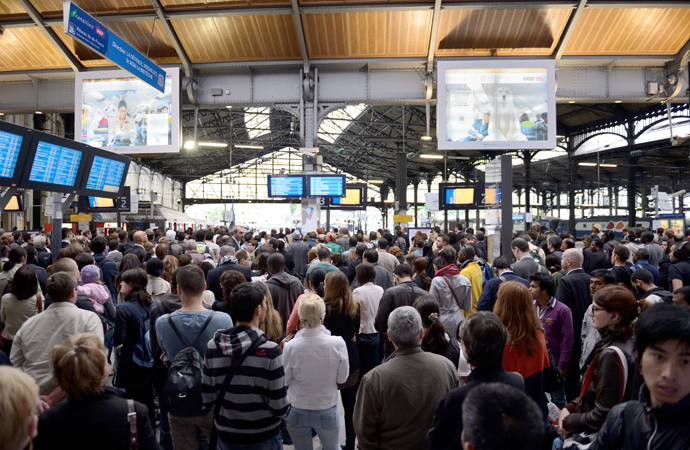 "I've been making this trip for a year, early in the morning and late at night, and I'm sick of it. Delays, breakdowns, strikes -- there's always something,"
a 19-year-old French girl told AFP.
Rail unions fear the merger will spark job losses: around 10,000 jobs have already been slashed in the last five years, according to unions.
The rate of participation in the strike of 150,000 workers across SNCF was 33.2 percent for all employees, 68.6 percent for train drivers and 70.4 percent for controllers, according to AFP. Strikes will draw to a close early on Friday morning.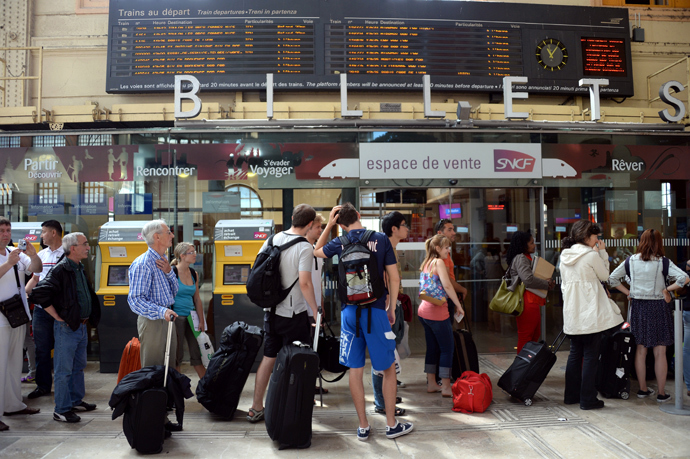 The mass action shortly follows two days of strikes by air traffic controllers, canceling 75 percent of French flights across Tuesday and Wednesday.
Tourists trying to leave the capital's airports by train or travelling by rail to catch the soonest possible flights from Paris on the first day of air travel are now running into further strike action.
Controllers protested plans to reform European air space, through a scheme intended boost air-traffic capacity. Three-quarters of flights from the main Parisian hubs - Orly and Charles de Gaulle airports, were canceled.
The DGAC (General Direction of Civil Aviation) stated that it was "exceptional strike action followed by almost 100 percent of air traffic controllers."
Strikers intended for the act of resistance to run into Thursday, but quelled their calls for mass action after Paris officially asked Brussels to review its policy plans to merge EU airspace.
Workers fear that the plans are part of moves to privatize at least part of the air transportation sector and will lead to layoffs.