France launches probe into 'vulnerable' nuclear base after media disclosure
Published time: 13 Jun, 2013 20:01
Edited time: 13 Jun, 2013 20:03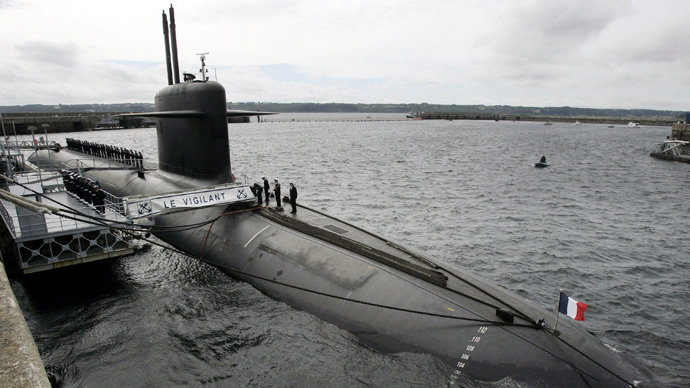 The French government ordered an inquiry into a nuclear submarine base off the coast of Brittany after the claims in the local paper that the strategic site is vulnerable for terrorist attack due to poor security.
The country's defense minister, Jean-Yves Le Drian, took the publication by Le Telegramme de Brest daily very seriously, calling for an immediate check at the base on the Ile Longue island, AFP reports.   

The paper has called the base "a fortress on paper," revealing huge security flaws at the facility, which hosts France's four nuclear attack submarines.  

According to the publication, access controls to the base were very weak as they didn't use biometric identification systems, which are common for most modern airports.

The badges of the servicemen had no traceability on entering or exiting the facility as well as logging of previous visits, with the primitive magnetic strip being quite easy to duplicate.

Le Telegramme added that the civilian workers making repairs at the base needed just a piece of paper with a few basic details, which "a child of 12 could reproduce", to enter the territory of the military installation.

With no scanners or detection systems in place, nobody even bothered to inspect the content of their trucks, which could've well been carrying large amounts of explosives, the paper stressed.

The journalists noted that the 115 military police deployed to protect the facility were part-time volunteers, many of whom were young, inexperienced and poorly paid.

The paper also found problems in the field of information security as the base was easily accessible to internet enquiries, with too much data on the site being available to the general public.

Despite being a top secret object, it can be without problems found on the Google Maps web mapping service.

The submarines at the Ile Longue island constitute the bulk of France's nuclear deterrent after the country closed its land-based, long-range nuclear system at the Albion Plateau back in 1999.

The four nuclear subs, which are commonly known as 'Boomers', are each equipped with 16 inter-continental ballistic missiles.

Le Telegramme warned that there'll be serious trouble if they fall into the wrong hands as firepower of just one submarine is equal to 960 times the nuclear explosion in Hiroshima in 1945.

Independent defense consultant, Jean-Marie Collin, told Francetv Info that the investigation into the Ile Longue base is an "an admission of weakness" by the French defense ministry, which indicates problems in the country's national security.

The expert stressed that the facility is "extremely well protected" from a possible military assault, but added that the real "danger rather comes from inside than from outside of the base".

According to Collin, there's risk of a base employee making a fatal mistake or an Al-Qaeda suicide bomber making his way into the base, which may lead to very serious consequences for the French state.