'A fool's game': France skeptical about possible Iran deal
While diplomatic heavyweights from US, Russia, China, UK and Germany are calling to seal a deal with Iran, Paris is voicing strong doubts. FM Laurent Fabius warns not to be fooled by Iran's proposals.
France is urging caution as top diplomats seem to be on the verge of a landmark nuclear agreement with Iran saying that though it hopes a deal is clinched, there is "no certainty" of a deal at the Geneva talks.
"There are still a couple of points that we are not satisfied with," Fabius told France Inter radio station, adding that the Arak nuclear plant and the 20 percent enriched uranium stock were of particular concern to Paris.
"We are for an agreement, that's clear. But the agreement has got to be serious and credible. The initial text made progress but not enough," he said, adding the France should avoid falling for "a fool's game."
France also said that Israel's security concerns could not be ignored at the Geneva talks. Earlier Israeli Prime Minister Benjamin Netanyahu warned US Secretary of State John Kerry and his European counterparts that Israel rejects any deal with Iran. Moreover, Netanyahu said that the international community should accept nothing less than the total disbandment of Iran's nuclear facilities.
Israeli government has called for the world not to be fooled by Iranian President Hassan Rouhani's "charm offensive."
"One should not be taken in by Rouhani's deceptive words," Benjamin Netanyahu's office said in a statement. "The same Rouhani boasted in the past how he deceived the international community with nuclear talks, even as Iran was continuing with its nuclear program."
Iran accuses France of 'blackmail'
Iranian President Hassan Rouhani urged world powers not to miss an opportunity to reach an agreement during the talks in Geneva.
"I hope that the P5+1 group will make the most out of this exceptional opportunity that the Iranian nation has offered to the international community, so that we can reach a positive result within a reasonable timeframe," he said on Saturday, as cited by official IRNA news agency.

Make no mistake: A zero-sum, Cold War mentality leads to everyone's loss.

— Hassan Rouhani (@HassanRouhani) November 9, 2013
In Tehran, Fabius' comments stirred criticism, with a senior Iranian lawmaker accusing him of "blackmail" and trying to widen the gap between the Islamic Republic and the six world powers, reports Fars news agency.
"The behavior of France's representative in the nuclear negotiations shows that France seeks to blackmail the negotiations, and this illogical behavior should be confronted by the other members of the P5+1," rapporteur of the parliament's National Security and Foreign Policy Commission, Seyed Hossein Naqavi Hosseini, told the agency on Saturday.
He said that while the French people "want an improvement in relations" between France and Iran, the French government "unfortunately" prefers to stick to the Israeli view on the issue.
"We hope that the French foreign minister casts a logical look at the negotiations," Naqavi Hosseini added.
Meanwhile, Iranian Foreign Minister Javad Zarif said that "some progress" had been made during the Geneva talks, but chances were low that Tehran would sign an agreement with the P5+1 on Saturday.
"There was a possibility, and perhaps it still exists, that if there are good intentions we can reach an agreed-upon a text," he told reporters, Reuters cites. "If we reach a result by the end of today, it's reached. If not, the process will continue in one week or 10 days."
According to Zarif, there are some differences of opinion on some issues not only between Iran and the six world powers, but also within the group of international negotiators.
Lately, Tehran has repeatedly criticized Paris for its stance on relations, with Iran's Supreme Leader describing the French government's policy as "openly hostile towards the Iranian nation".
"A wise human being, particularly a wise politician, should never have the motivation to turn a neutral country into an enemy," Ayatollah Ali Khamenei said earlier.  "We have never had problems with France and the French government, neither in the past nor in the present era. However, since the time of Sarkozy, the French government has adopted a policy of opposing the Iranian nation and unfortunately the current French government is pursuing the same policy. In our opinion, this is a wrong move. It is ill-advised and unwise."
'Seize the moment'
In response to Netanyahu's concerns, US diplomats said it was too early to criticize what is still being deliberated.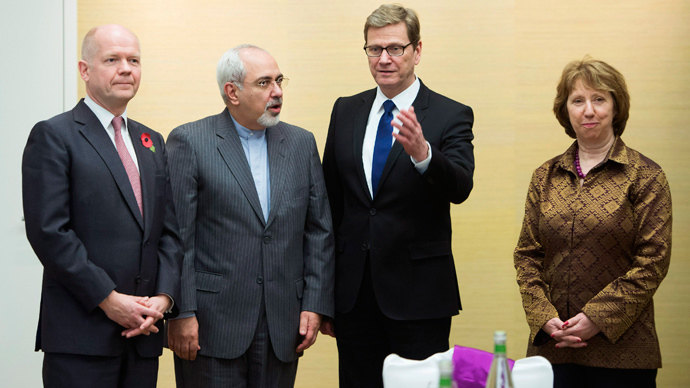 Representatives from the UK, Germany, France and US arrived in Geneva for talks Friday that were described as "making progress."
Russian Foreign Minister Sergey Lavrov joined the negotiations Saturday, while Chinese Foreign Minister Wan Yi was also expected to arrive later Saturday.
British Foreign Secretary William Hague called for a final push toward a deal with Iran, telling reporters "we must do everything we can to seize the moment." However, he conceded that any agreement would involve a measure of flexibility from all sides.
If an agreement was reached in Geneva it would end a decade-long diplomatic deadlock with Iran. Previous meetings were often marked by the absence of one or more of the attending countries' top diplomats, but this time all are in attendance.
The international community suspects that Iran is enriching uranium with a view to creating atomic weapons, something that Tehran has always denied. To allay these fears the Iranian government has offered a number of concessions, including reducing uranium enrichment to 5 percent, far from the 20 percent necessary for the construction of a nuclear bomb, according to the UK's Telegraph newspaper.
In addition, Iran said it would not activate its plutonium reactor at Arak for a period of six months and limit the use of its centrifuges.
In return, Iran asks that financial sanctions that have crippled its economy be removed.
'Good cop, bad cop'
Political analyst Robert Harneis told RT that France is adopting a good cop, bad cop strategy with the US to make Washington look better.
"Obama is suddenly being much more reasonable in his attitude with the Iranians, and the French are out there on the flanks saying: "Oh, you mustn't agree too easily, Israel must be protected," said Haneis, adding that the "considerable" Jewish lobby in France had a hand in the French sympathizing with Israel.
However, Harneis said an agreement could be clinched Saturday as it was in the Americans' interests.

"It could be that there's a real revolution taking place and the Americans are going to change their stance because they need to do business with Iran," Harneis told RT.

By opposing the deal between Iran and the P5+1, Paris could be seeking to win points among its allies in the region – Israel and Arab countries, suggests Abas Aslani, the General Director of Fars news agency.
"France can enjoy the difference between Israel and Arab countries with the US, to strengthen its ties with those countries," he told RT.

A Western diplomat close to the talks said the French were trying to upstage the other powers.
"The Americans, the EU and the Iranians have been working intensively together for months on this proposal, and this is nothing more than an attempt by Fabius to insert himself into relevance late in the negotiations," the source told Reuters.