Quelle Horreur Culinaire: Fast food more profitable than traditional cuisine in France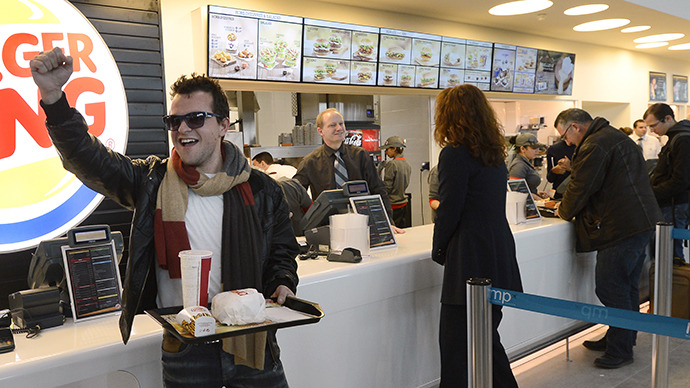 France may pride itself on fine cuisine, but it is facing a culinary coup d'etat: Fast food chains have for the first time dethroned traditional sit-down restaurants as the top earners in France's dining market, according to a recent survey.
Hamburgers, pizzas, hotdogs and other fast foods have swiped 54 percent of the overall market share, accounting for €34 billion in sales in the sector in 2012. A year ago, that number was only 40 percent.

"In previous years, we could see fast food was gaining ground, but this is the first time it has overtaken restaurants where you are served at the table," said Julien Jeanneau of French food consulting firm Gira Conseil, which conducted the survey into France's eating habits published on Thursday.

"Despite a slowdown and unfavorable economic optimism, the market for fast food is still well in 2012," said the report.

The past year turned out to be especially successful for fast food giants like McDonald's – as France became the chain's second-largest market in the world after the US – or its local rival Quick. The two saw their sales increase by 4 and 5 percent, respectively.

While the fast food giants had dollar signs in their eyes, restaurants traditionally serving three-course lunches have been hit hard by seismic changes to France's eating habits, experts explained, as French purchasing power has declined. The French now tend to buy cheaper food and save money by not going to restaurants for lunch.

Sales of sandwiches in France rose by 6 percent in 2012, reaching more than €7 billion in the past 12 months alone; France consumed a total of 2.105 billion sandwiches last year. The report also revealed the French are the second-biggest consumers of pizza in the world, after the US. 

One of the explanations for the new trend is a change in office culture, experts from Gira Conseil explained. Fast food chains are more likely to meet demand, as they not only cook quicker, but also deliver their food.  French employees are also increasingly ordering takeout for the workplace.

"What works is to go where the consumer needs it," Gira Conseil Director Bernard Boutboul said.

The survey found out that the average time spent eating a meal in France has dropped from 1 hour and 20 minutes in 1975 to 30 minutes today. This is also cited as one of the reasons why the French culture of restaurants and lunches with wine is losing its popularity.

You can share this story on social media: