UK Foreign Secretary visits Libyan rebel stronghold
Published time: 4 Jun, 2011 17:38
Edited time: 5 Jun, 2011 01:52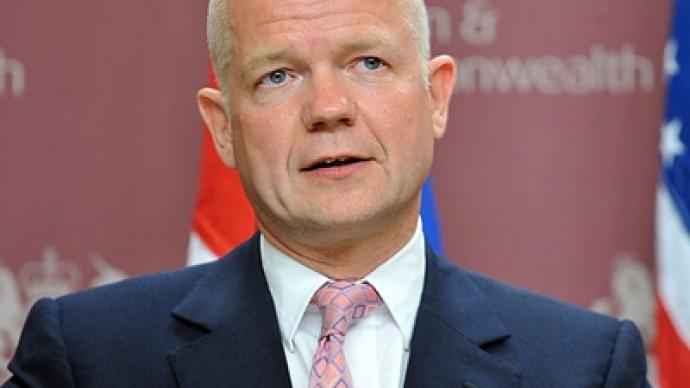 UK Foreign Secretary William Hague and International Development Secretary Andrew Mitchell have made a surprise trip to Benghazi to express their support to the rebels.
Hague and Mitchell arrived Saturday to meet with the leaders of the National Transitional Council, including its chairman, Abdul Jalil. They are also expected to meet with Libyan citizens in the embattled country.
Hague said that the visit is meant to show support for Libyans fighting the regime of Muammar Gaddafi. So far Hague is one of the highest-ranking officials to visit Libyan territory held by the rebels.
His arrival comes shortly after NATO forces introduced the use of Apache attack helicopters for the first time in Libya.
On Monday, Russia is expected to send a special envoy to meet with the Libyan opposition in an effort to mediate the crisis in the North African country.
Journalist and author Afshin Rattansi says that the fact that William Hague is sitting down alongside people accused of war crimes is a disaster.

"It seems so deliberate, these attempts to stop any type of peace process. All we now know is that William Hague, the British Foreign Secretary is seated there and he is in with the rebels. The UN said that there are war crimes being committed by some of the rebels. So presumably that means the British Foreign Secretary is in touch with [the rebels.] If it ever came to an International Criminal Court decision, I am sure he would be superannuated," he said. "It is looking more and more like a disaster, with only Russia and China holding any cards to play at the moment."