Passing the torch: Olympic flame handed over to Russia, set to rock Red Square
The Olympic flame has been handed over to the organizers of the 2014 Winter Games in Sochi. The torch will now begin its 65,000 kilometer journey across Russia before opening the country's first ever Winter Olympics on February 7.
After a six-day trek through Greece, the flame - lit on September 29 in Olympia - was presented on Saturday to the Russian delegation at Athens' Panathenaic Stadium, which hosted the first modern Olympic Games in 1896.
It has been more than three decades since the Olympics were held in Russia - back then the Soviet Union - in 1980. Now, since "new Russia" was granted the honor of hosting the Games, the country "will fulfill all its obligations before the international sports community," assured the head of the delegation, Deputy Prime Minister Dmitry Kozak.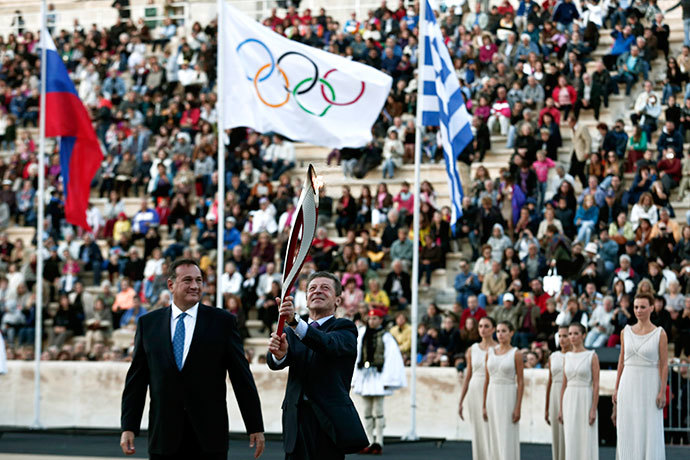 The torch will stay overnight in Russia's embassy in the Greek capital before being delivered to Moscow's Vnukovo-3 airport on Sunday. The Olympic flame – escorted by motorcycles and retro-cars – will then be taken to Red Square for the Olympic cauldron lighting ceremony.
Russian President Vladimir Putin will launch the Olympic Torch Relay, which will pass through 130 cities and all 83 regions of the Russian Federation. The journey will go all the way from the westernmost exclave of Kaliningrad to the Far East. The torch will also be taken to the North Pole and even to space. 
The relay will last 123 days, with 14,000 torchbearers and 30,000 volunteers expected to take part. The journey will end at the newly-built Olympic Stadium on the Black Sea resort of Sochi, where the opening ceremony of the 22nd Winter Olympic Games will be held.