Iran's first nuclear power plant now online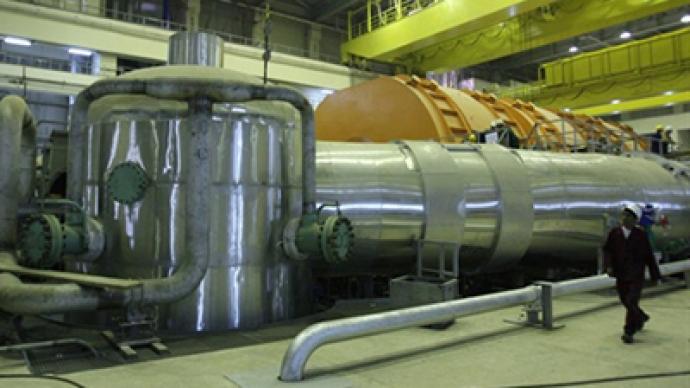 After years of waiting, Iran has switched on its first nuclear power plant. The country's atomic chief says electricity produced by the Russian-built Bushehr reactor will be connected to the national grid within a month or two.
There has been little information on the launch of the nuclear plant, and even the exact date it became operational is not known. Iran's leadership says they do not want to make a big deal out of it and draw attention to it. "The reactor was completely loaded with fuel, and a few days ago it was sealed up," said head of Iranian Atomic Energy Organization Ali Akbar Salehi on Saturday. The water in the reactor is being gradually warmed, after that final tests will be conducted he added. According to Salehi, the plant will start supplying energy to the country in one or two months' time – which will be a "great holiday" for the Iranian people.The launch of the nuclear plant in Iran is also quite important for Russia, as it is very interested in the Middle East market, believes Vladimir Orlov, a nuclear non-proliferation expert from the Russian Centre for Policy Studies."For Russia, demonstrating that it is fit to provide the best of the best in nuclear energy, to provide it regardless of any political pressures, I think, opens wider doors for competition in the Middle East on the very tough potential nuclear market," he told RT.Orlov also added that the Bushehr reactor is "proliferation resistant", which allowed its exemption from the UN nuclear sanctions on Iran. According to him, not only does the new reactor create no threat of proliferation, but it also "opens new avenues for engagement of Iran in talks about peaceful uses of nuclear energy and Iranian transparency on them."
By building a nuclear power plant, Iran has shown that it is interested in following a peaceful nuclear program, stated Foad Izadi, politics professor at the University of Tehran. However, although the Iranian president suggested that representatives from Western countries should go to Iran and see that its nuclear program does not become militarized, this offer did not lead to any practical results for political reasons. "It seems, apparently, the US may not be really interested in resolving this issue [Iran's nuclear program], because they use this nuclear issue as a way of pressuring Iran politically. It's more of a political problem, than a security problem," Izadi suggested.
Commenting on UN sanctions against Iran, Afshin Rattansi, a journalist specializing on Iran's issues, noted that according to some surveys, Iran's economy is actually benefiting from the sanctions and is getting stronger despite all expectations. He also claimed that the image of Iran around the world has not deteriorated because of the sanctions, especially when taking into consideration attitudes in Latin America and Africa. "I think a lot of people in the Global South [Africa, Central and Latin America, and most of Asia] see Iran as a leader against the US and Germany in its defiance of Washington's desire to basically take over its energy resources," he told RT.
You can share this story on social media: