First bitcoin ATM opens in Vancouver, more planned throughout Canada
The world's first bitcoin ATM opened Tuesday in Vancouver, Canada, dispensing hard money in exchange for the anonymous crypto-currency through a palm-scan security system.
The automated teller is set up in downtown Vancouver at Waves Coffee House, making it the first of five ATMs bought by Canadian firm Bitcoiniacs from Nevada-based producer Robocoin.
"I think [bitcoins have] the potential to be revolutionary," Mitchell Demeter, founder of Bitcoiniacs and co-owner of Robocoin, told RT.
The machines will exchange bitcoins for Canadian dollars via Canada's VirtEx exchange. The transactions themselves will be anonymous, the vendor says, but clients will have to identify themselves via a palm scanner first.
Demeter said the anonymous nature of bitcoins should not scare those reticent to trust the currency's validity.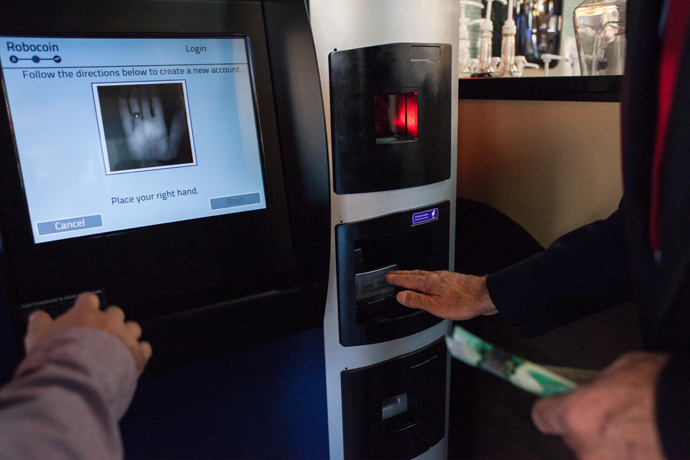 "It's said to be anonymous, but it isn't really," he explained. "Every transaction you make is recorded on a public ledger. Your name isn't attached to it, but if somebody wants to find out who is making that transaction, it can be done."
This is done to enforce Canadian anti-money laundering laws, due to which the ATM will only allow transactions of up to CAN$3,000 (around US$2,700) per day per customer.
The four other ATMs will be rolled out in Canadian cities such as Toronto, Montreal, Calgary, or Ottawa in December, Bitcoiniacs says. 
Demeter said that bitcoins, which are already used to pay for web services, are attracting attention from more physical locations - especially since bitcoins allow merchants to largely avoid fees associated with credit card purchases.
"Here in Vancouver, there are about 30 brick-and-mortar businesses that accept it as payment, and that number's growing every day," he said.
Michael Bliss told CBC that his business, Pacific Bliss Yoga, was the first in Western Canada to start accepting bitcoins two years ago.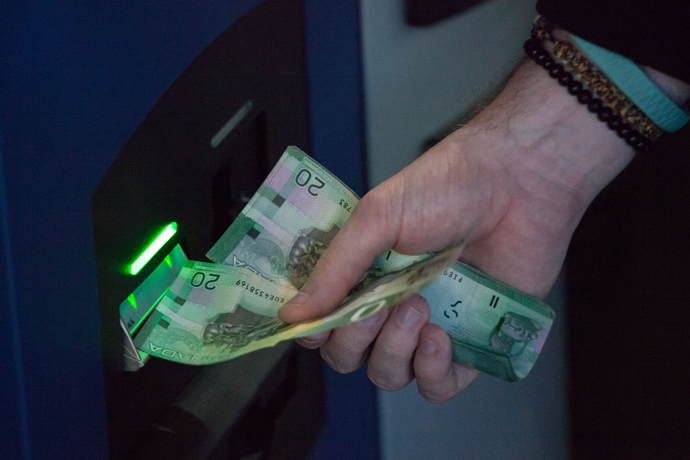 "Now, we've got at least 20 businesses this year," said Bliss, co-founder of the Bitcoin Co-op, which helps bitcoin users connect to outlets that accept the currency. 
Bitcoin is an internet-based currency designed to exist without any centralized regulatory authority. New Bitcoins are generated by spending computer processing time to conduct complex calculations, and the process is limited by a maximum of about 21 million bitcoins that can exist.
The currency works along with existing hard currencies, and the new ATMs will help it spread, Demeter said.
"We're really not replacing anything, this is just another currency that will work among all the other currencies," he said. "This is the currency of the internet. It will always be valued against other currencies."
Demeter said that varying levels of digital security ensure that users have substantial control over assets, as they would with hard currency.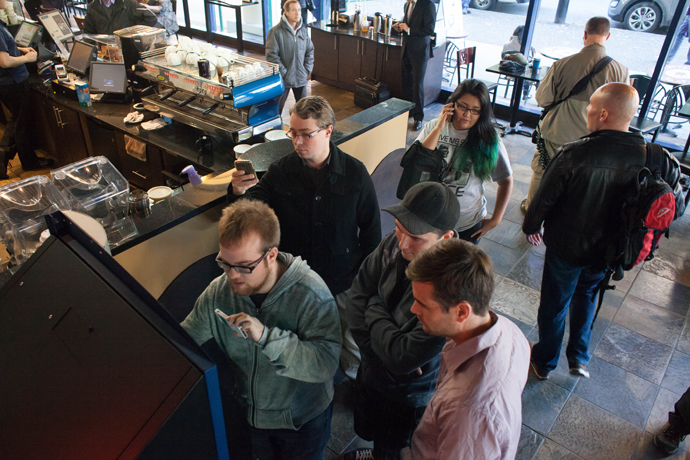 "Ultimately, there are always going to be people trying to defraud or steal money, but you get that in the regular banking system," he said. "Regular bank accounts are online, and they get compromised daily. This is almost more secure."
The currency has long been a fad among online privacy activists, financial futurists, and shady dealers, but is so far little known to the general public. It recently hit the headlines after the FBI bust of the Silk Road website which US authorities say facilitated the trade of illegal goods and services, from drugs to assassinations.
Though the Silk Road association slightly devalued bitcoins, Demeter said they have recovered 100 percent since.
As of Tuesday morning, Bitcoiniacs said it was buying bitcoins for CAN$183.21 a piece and selling them for $207.37 to $211.32, according to CBC.

You can share this story on social media: