1 person dies, 6 injured as farmers block Paris highways in tax protest
A young fire fighter has been killed at a farmers' blockade near Paris. Dozens of French farmers in tractors blocked highways into the capital on Thursday to protest higher taxes and changes to European subsidies.
According to Transport Minister Frederic Cuvillier, two traffic accidents occurred when the tractors moved into Paris. Six people have been injured.

"Danger! I call for the immediate lifting of the roadblocks," Cuvillier wrote on Twitter

Police said they are expecting similar blockades on five routes into Paris.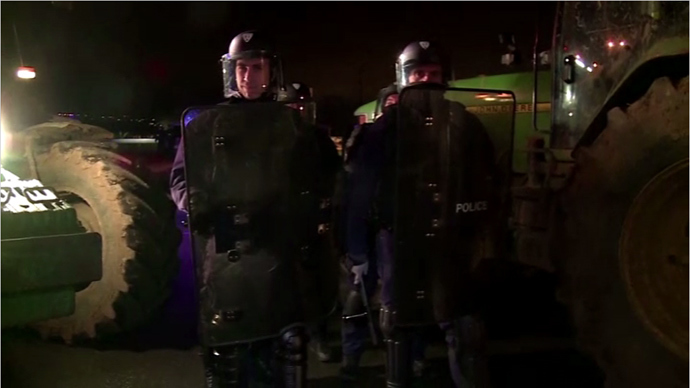 Farmers from the Ile-de-France region say they are fed up with what they say is "over-taxation," namely the so-called "eco-tax" on road freight and a planned rise in value added tax on January 1. Farm and food sector trade unions say the planned new levy on road freight will cost thousands of jobs.

"We are here to show our government that we won't accept these policies anymore which are decimating an entire sector," union representative Christophe Lerebour told Reuters TV.

Lerebour warns that taxes will badly injure French farmers putting them at a disadvantage with the rest of Europe, and create a "very big distortions in competitiveness" damaging farm exports. 

On Thursday two unions from the Paris region, the FDSEA and JA, announced "general mobilisation" for a blockade of Paris to "make the voice of the agriculture sector, which has been otherwise sacrificed, heard."

They complained their members were hit hard by growing tax rates and by the "increasingly demanding environmental rules, checks and stronger regulatory mechanisms."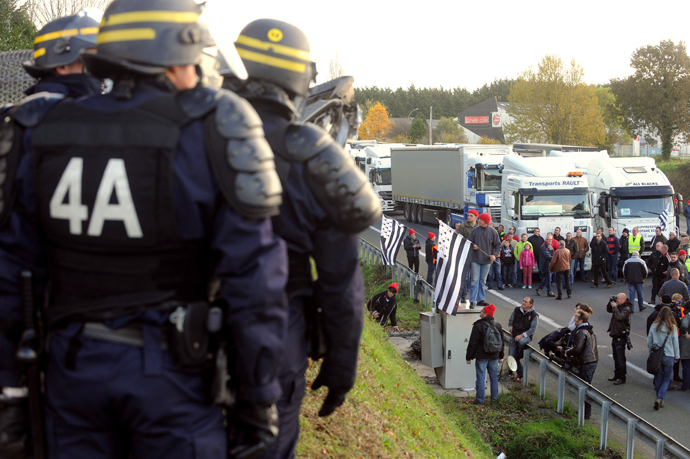 In early November at least 10,000 people demonstrated in the town of Quimper in the Brittany region calling for a complete and final end to the "ecotax."

Farmers and food sector workers voiced concerns over continuous layoffs and high taxes in the country.

Some demonstrators gathered for speeches before marching into the city reportedly threw stones and iron bars at police. Officers responded by firing tear gas and water cannon.

According to authorities, 10,000 people attended the event, while a protest organizer told French media that 30,000 people took part in the rally.

You can share this story on social media: