We hope Japan will courageously face the trial – Putin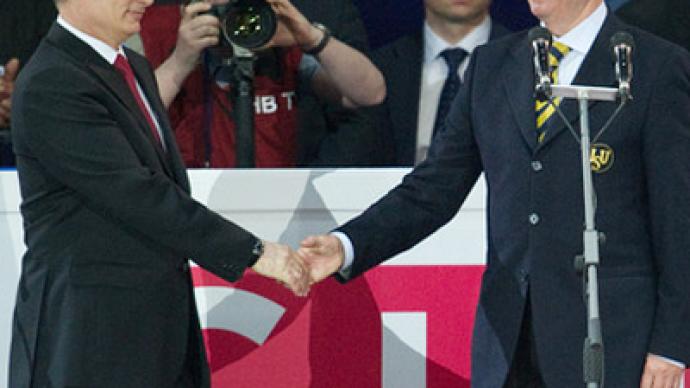 Russia's prime minister thanked the International Skating Union for choosing Moscow as the venue for the World Figure Skating Championship as he opened the world contest in the Russian capital.
"These competitions were to take place in Japan, but we all know of the calamities that Japan is facing – the earthquake, the tsunami and the emergency situation at the nuclear plant. We know more than anyone else what this means" said Vladimir Putin at the opening ceremony. "We hope the government and the people of Japan will courageously face the trial.""We are very thankful to the International Skating union for choosing Moscow as the venue for these competitions and we will do our best to ensure the highest level of these competitions, for the sportsmen and the journalists to feel at home in Russia" he added."Exactly 115 years ago, in 1896, St Petersburg was the venue of the first figure skating championship" continued Putin, as figure skating's top athletes prepare to take to the ice in Moscow. The biggest annual skating event was moved to Russia from Tokyo after the devastating natural disasters that hit Japan in March.Russia is staging the World Figure Skating Championships for the third time, due to the change in venue.It was a tough challenge for the organizers, though they managed to prepare everything in just one month.Full houses are expected on every day of the tournament with over 70 per cent of the tickets already sold.. After two days of qualification rounds, the championships open Wednesday at the Megasport Arena with the men's short program. Despite the absence of Russia's biggest star – Yevgeny Plyushchenko was banned by the International Skating Union – the contenders will face stiff competition, as all four reigning World Champions are back on the ice.
You can share this story on social media: