Palestinians consolidate as Fatah and Hamas sign peace agreement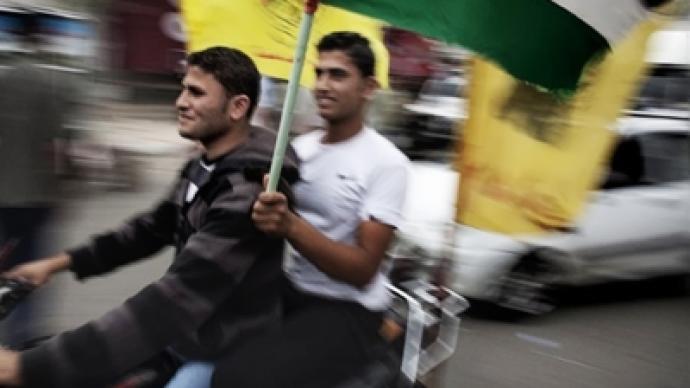 The two major Palestinian political forces have clinched a historic deal, agreeing to form a unified government.
Palestine's civil discord, which has lasted more than four years, came to an end on Wednesday in Egypt's capital, Cairo, where the two rival Palestinian factions, Fatah and Hamas, signed a reconciliation pact.The pact provides for the creation of a joint-caretaker Palestinian government in the run-up to national elections next year. After the ceremony, the head of the Palestinian National Administration, Mahmoud Abbas, reconfirmed his intention to win recognition of an independent Palestinian state in the UN General Assembly in September."Our first and true battle is with the Israeli enemy and not with Palestinian factions or among sons of one homeland," stated Hamas leader Khaled Mashaal after the pact was signed. The agreement was signed with Egypt's mediation, after a two-year period of failed attempts.Israel had denounced the pact in advance of the Cairo ceremony, with Israel's PM Benjamin Netanyahu calling it "a significant blow to the peace process." Israel considers Hamas a terrorist organization, a view shared by the US and EU, and says it will not negotiate with a future Palestinian government that includes the group. Palestine's civil discord started in 2007, when power in Gaza was seized by Hamas, while the West Bank territories fell under Fatah's control. During Wednesday's celebrations, Hamas flags could be seen in former Fatah territories, while Fatah banners were allowed into the streets of Hamas areas for the first time in four years.Aziz Abu Sarah, peace activist and columnist from Al Quds, says many people have criticized Hamas and Fatah, and especially President Abbas, for making the country too weak because of the split between Gaza and the West Bank. Moreover, Palestine became too unstable and, with Egypt's experience, the factions started fearing local uprisings as well. "This unity is between Fatah and Hamas, not between government officials," says Aziz Abu Sarah, "It is on purpose that Hamas and Fatah will not be a part of the future government, they will make a government that will have just one year to prepare for elections. It will be more an administrative government. There might be a chance it will get accepted by the West. They did not reject right it away and said they would wait for details to see what's going on."Aziz Abu Sarah added that Israel's initial apprehension of the two factions' reconciliation was exaggerated as national unity was the only logical step Palestinians could take in their circumstances.
You can share this story on social media: