Getting smashed on Facebook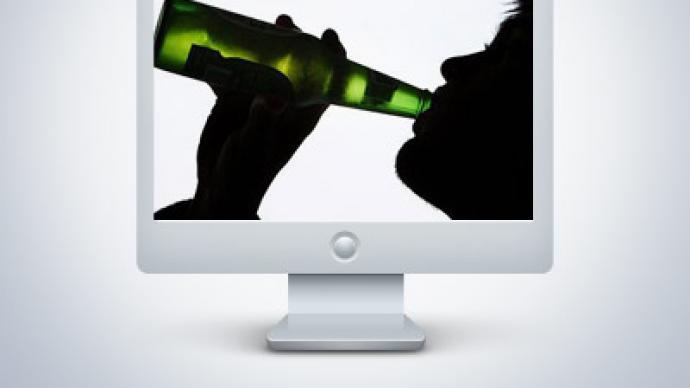 Online drinking is becoming increasingly popular as many young Americans and Europeans have decided to forgo traditional social settings for sites like Facebook, raising their glasses to their monitors instead of each other.
According to the National Institute on Alcohol Abuse and Alcoholism, heavy drinking is on the rise among young people aged 18-29. As a result, many researchers have come to find the phrase social networking to be somewhat ironic, since sites like Facebook appear to be delimiting real world social interaction in favor of self-imposed isolation, behavior that often leads to substance abuse problems.      In a world where many would prefer to interact virtually rather than with each other, online boozing is becoming all the rage. Young people from around the world, whether they are across the street or on different sides of the equator, agree to hook up online via social networks and begin drinking in a way that, while not exactly alone, they are certainly not together in any real sense of the word.   Many sociologists have come to see the practice as self-destructive, both in terms of social adaptiveness and health, with many "online drinkers" ultimately turning into full-blown alcoholics.  However, when it comes to preventative care, social networks have their advantages. Seeing as Facebook can provide documentation for the exact dates and times that individuals are drinking online, it is possible to gauge the extent to which many are actually abusing alcohol.  And while one cannot expect a direct link between every shot downed and every status update, what people post on Facebook may actually provide a window into what is really happening in young people's lives.  A recent study published in the Archives of Pediatrics and Adolescent Medicine has found that students who posted pictures or status updates about getting drunk or blacking out were more likely to be at risk of drinking problems, Reuters reports. The same could not be said for those who mentioned drinking or alcohol in a manner which did not intimate excessive use or reckless behavior.  The team of American researchers from the University of Wisconsin-Madison and the University of Washington in Seattle surveyed 224 undergrad students whose Facebook profiles were open to public viewing.And while almost two-thirds of the students shared no posts or pictures which related to drinking, the remaining students' Facebook profiles either contained status updates or pictures depicting a wide range or drinking-related activity. That activity included everything from moderate drinking to highly risky behavior like drunk driving and problems arising from being publicly intoxicated.    All the students whose profiles were viewed were later brought in by the researchers to complete a 10-question screening test used to assess the frequency, volume and resultant negative consequences of alcohol consumption.  Almost 60 per cent of students whose Facebook pages mentioned drunkenness or dangerous drinking proved to be at greater risk of alcohol abuse, dependency and other drink related problems, the study found.Subsequently, 38 per cent of those whose Facebook profiles only depicted the moderate consumption of alcohol were shown to be at risk, in comparison with 23 per cent for those whose pages made no mention of drinking at all.    The study also found that nearly one in five whose Facebook activity depicted at risk behavior had suffered an alcohol-related injury over the last year.Although there is a difference between those who drink socially and later post their pictures on Facebook and those who have shunned social interaction in favor of social networking, the overall trends seem to indicate that sites like Facebook could either be directly or indirectly facilitating alcoholism amongst the young. And while any attempts to curb alcoholism on Facebook via a ban on alcohol related status updates and pictures seem unlikely, scientists across the board agree that peer support and real social interaction are not only beneficial for those who already have a drinking problem, but could keep others from developing one later on down the line.