Facebook vs US establishment: who controls whom?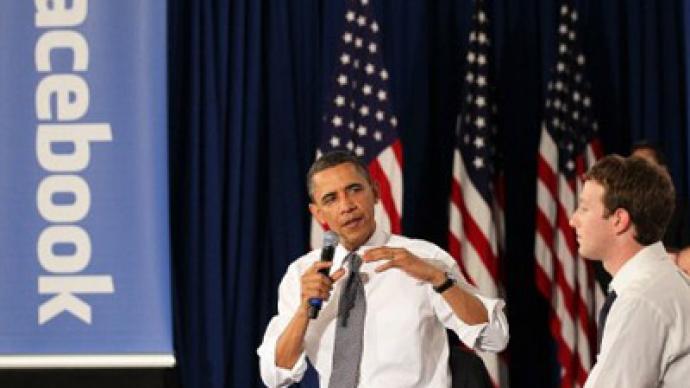 As Facebook continues to hire current and former White House employees to enhance its lobby in state structures, concerns over the privacy policies and security practices of the world's largest social networking site are on the rise.
The man behind the US $750 million site, Mark Zuckerberg, appears to be hatching a fresh scheme to establish reliable links with both the Congress and the White House, dropping any pretence of party preferences.  A whole team of advisors from Republican and Democrat camps have joined the ranks of Zuckerberg's army ready to push, pull and protect the company's interests at any given level of the American bureaucratic hierarchy.
Facebook shares key positions with White House
At first, hirings of former top civil servants were few and far between, occurring only about once a year. This was the deal back in September 2008 when Ted Ulloyt, a George W. Bush loyalist, was appointed to vice president and general counsel, reports The Washington Post.Two years later in June 2010, Marne Levine, a member of President Barack Obama's staff, was hired to guide the social network's policy issues from Washington.The current year has been seen a remarkable number of prominent government figures entering the  Facebook corporation.In May 2011, Facebook called a former aide to President George W. Bush – the Republican Joel Kaplan – to head its Washington office.In June this year, a former spokesman for President Bill Clinton's administration, Joe Lockhart, was recruited to head Facebook's communications team. President Obama's special assistant for legislative affairs (who was also Vice President Biden's former deputy chief of staff) Louisa Terrel is now to define Facebook's public policy, a job she once did for Yahoo.Sheryl Sandberg, who used to work in the Treasury Department under Barack Obama's Economic Adviser Lawrence Summers, is now employed as Faceboook's chief operating officer.A new senior policy adviser and director of privacy, Erin Egan, will come to Facebook in October. She is currently co-chair at Covington & Burling's global privacy and data security, a company ranked as being in the top ten for its privacy practices.Only last week, Zuckerberg introduced President Clinton's chief of staff, Erskine Bowles, to Facebook's board.All these people are to ensure that Facebook remains the industry leader, obsessed with the data security and privacy safety of its hundreds of millions of clients.At the same time, to an unbiased observer, the processes going on in the internet technology giant cannot but resemble putting a highly-successful company under full governmental control. Considering the unprecedented prospects the project opens in the field of global data collection, it appears only natural that the American government should promote its top people to key positions of responsibility with regard to Facebook's data security. But RT guest Steve Rambam, founder and CEO of Pallorium Inc., an international online investigative service, has stated openly that companies like Facebook, Google or MySpace are "aggregating data on each of us bit by bit and before you know it, your entire life is on a disk."
Europe enforces its own rules
In Europe, Facebook's position appears somewhat shaky after it emerged that it had been used to organize some of the violence that erupted in London at the beginning of August. Despite active lobbying  –  the company hired former MEP Erika Mann as spokesperson for all EU institutions –  the American giant is to appear before a British Home Affairs Select Committee on "policing  large-scale disorder."Facebook will not be alone: Twitter and BlackBerry-maker Research in Motion will stand alongside it to face the music over riots in the UK and the role these three technology companies played in the disorder, allegedly providing rioters with the means to organize and plan choreographed disorder and looting. But as predicted in August, the rioters' trust in BlackBerry's encrypted messaging has already backfired. BlackBerry maker Research in Motion appears to be fully co-operating with British detectives investigating the disorder and there is little doubt that Facebook and Twitter will follow suit.
You can share this story on social media: