EU troops would guard aid throughout Libya – report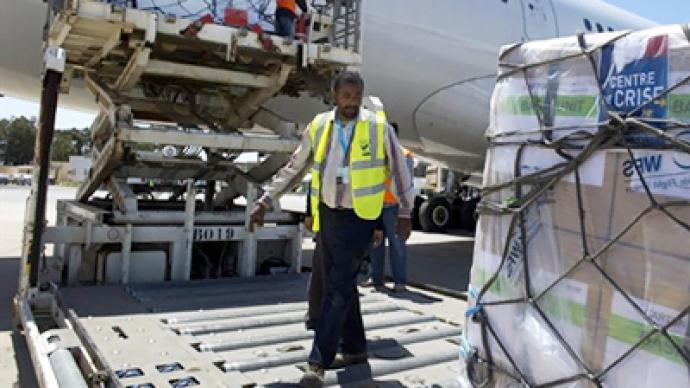 German newspaper Bild has given a sneak peek of operation EUFOR Libya, the plan to use EU ground troops to protect humanitarian convoys on the request of the UN.
The plan, fist announced in mid-April, provides for troops of the European Union Military Staff (EUFOR), to perform guard duties for organizations involved in relief efforts in Libya. The mission would only be launched on request from the UN.The 60-page concept of the mission, according to Bild, sets the whole territory of Libya as a lawful operative zone for the EU force. The troops would secure sea ports and airports, defend humanitarian aid convoys from possible attacks and supply fuel to aid organizations.The document does not set out the exact number of troops to be sent to Libya, but earlier comments from European officials pointed to 1,000 as the top limit. The mission would have a set duration of four months.The force involved in the operation would include several companies of regular foot soldiers as well as minesweepers, combat divers, air traffic dispatchers and aerial teams for the evacuation of wounded personnel, the newspaper says.Risk assessment of the mission considers the possible threat to the force as ranging from high to critical. The greatest threats include terrorist attacks and drawing EU troops into tribal violence.The international involvement in the civil conflict in Libya under a UN mandate started on March 19. The mission, which has a stated goal to prevent the escalation of violence and protect the civilian population, has been under increased criticism, as skeptics see the NATO-led force acting as a de facto party to the conflict.Russia, one of the critics, says NATO's anti-Gaddafi and pro-rebel actions set a bad example for all opposition groups in the region."Alas, [the West's message] may be contagious, because it is expressed in other regional countries with the hope that the international community will come to their assistance if the situation exacerbates," Russian Foreign Minister Sergey Lavrov said on Monday."In fact, this is an invitation to a series of civil wars," he added.Earlier, several EU nations announced that they will send military advisors to aid rebel forces, which many commentators believe is a violation of the UN Security Council resolution, which allows only an aerial operation in Libya.
You can share this story on social media: