EU passports for sale in Latvia
Published time: 29 May, 2012 04:25
Edited time: 29 May, 2012 10:56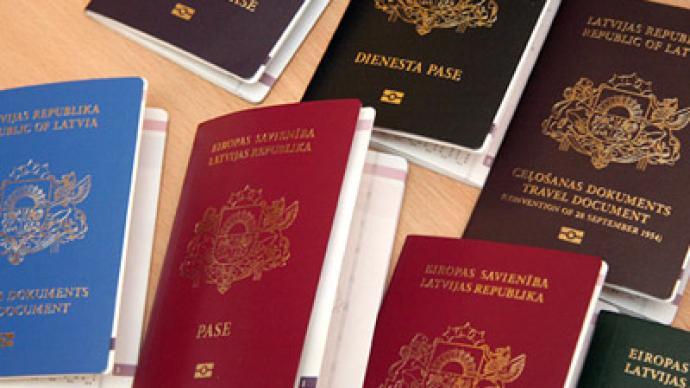 Selling your passport may not make you rich, but for poor Latvian citizens, and especially "aliens", it proves a reliable source of additional income. Claimed lost or stolen, the documents eventually end up with illegal immigrants.
­Latvia is a small Baltic country and was a republic of the former Soviet Union. Its living standards, however, would hardly make it Europe's primary destination for immigration.
Yet Latvia is a member of the European Union, whose citizens enjoy the privilege of visa-free travel within the EU and many other countries. Even the so-called "aliens" can travel to Europe with their "alien passports". 
Hundreds of thousands of Latvia's residents who carry "alien passports" are people who moved to live in the then-Soviet Republic of Latvia after 1945, or their descendants. Most are Russian nationals and they are officially considered aliens, lacking many basic human rights, such as the right to vote or work in many state organizations.
This is why Latvian passports are in such demand on the black market.
Every year, 12-15,000 Latvian passports are lost or stolen – an impressive figure for a tiny nation of about 2.2 million people. Some of them, indeed, disappear by pure accident. Other Latvians are known to have held national records with over a dozen passports "lost or stolen," Telegraf.Lv reports.
The country's police say that intentional "loss" is the majority of all such cases. A passport can be sold for 150-200 lati (US$250-350), while getting a replacement document would cost you only 50 lati. The final "customer" will pay from 600 to 2,000 lati for the remade ID.
Most of those who sell their passports to black-market dealers are well aware of the buyers' intentions and do not claim the "loss" until their ID finds its way abroad.
"We have also found out that those members of [certain] ethnic groups, who have acquired permits to stay in Latvia or the EU, then themselves arrange 'channels' for illegal immigration," a senior member of police, Guntis Pujats, explained.
"We once exposed an Egyptian who was thinking of bringing many other Egyptians to Latvia through Russia, and finally to make their way to France with fake travel documents," he said.
Passports which once belonged to Latvian citizens and non-citizens have now spread all over the world. They have been tracked in Germany, Lithuania, France, Sweden, the UK, Iceland, as well as the US and Canada.