EU in crisis: Public trust hits record low as Europe braces for more protests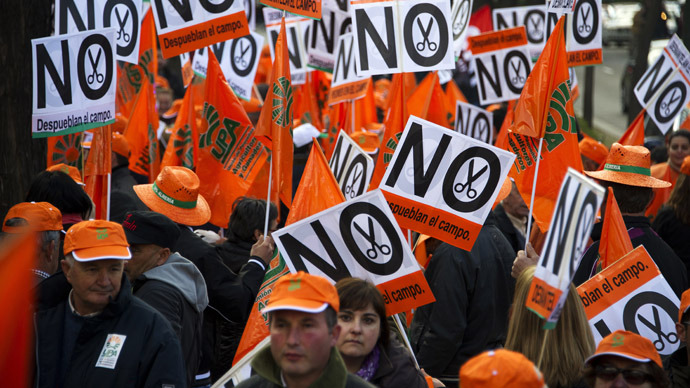 Public confidence in the EU has hit an all-time low in the bloc's six biggest countries, a new poll has revealed. Thousands are expected to hit the streets in Spain against a new round of reforms as unemployment passed the 6.2-million mark.
Statistics from Eurobarometer show a dizzying slump in citizen trust of the EU across the bloc's six biggest countries. The new poll, published in the Guardian on Thursday, surveyed Britain, France, Germany, Italy, Poland and Spain, whose combined populations make up more than two-thirds of the EU.
Mistrust is particularly high in protest-stricken Spain, which has seen the most significant reduction of confidence, according to the poll: In 2007, 23 percent of the population declared their mistrust in the EU, while by November 2012 this figure had leapt to 72 percent.  

Mistrust in Poland and Italy has also risen, with 42 percent of 2012 respondents in Poland critical of the EU, with the figure rising from 28 percent of Italians in 2007 to 53 percent of Italians in 2012. In the UK, Euroskepticism was already high in 2007, with 49 percent of poll respondents declaring their mistrust; this figure has also risen to 69 percent.
The poll results were analyzed by the European Council on Foreign Relations, an EU think tank.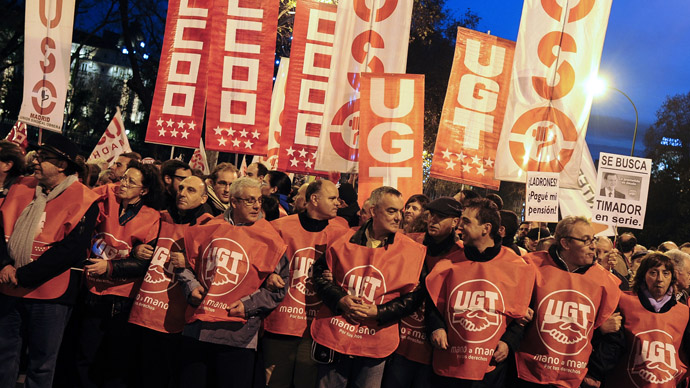 Record unemployment sparks protests

Thousands of protesters are expected to rally in Spain and Portugal in a show against government austerity measures.

On Thursday morning, Spanish police arrested 15 people. Four of the detained are said to be "members of anarchist groups", whom the authorities suspected were arranging to commit arson, having reportedly prepared flares, firecrackers, petrol and disguises.

Another 11 are young men arrested at Madrid's Complutense University where they had gathered to block access to the university and were preparing for an anti-government demonstration.

Anti-government protesters organized to 'Surround Congress,' in Madrid just as the latest round of anticipated cuts and austerity measures come into force.
Anonymous also claimed responsibility for a distributed denial of service (DDoS) attack against the Spanish parliament's website on Thursday.
In the early hours of Thursday morning, Spanish police arrested four people who authorities suspected were arranging to create a blaze, having reportedly prepared flares, firecrackers, petrol and disguises.

As the day progressed, police began to stop people out on the streets, mistaking a birthday gathering for a protest and attempting to disperse it. Student action has been taking place in both Catalonia and Valencia, with Riot police raiding the Complutense University of Madrid (UCM).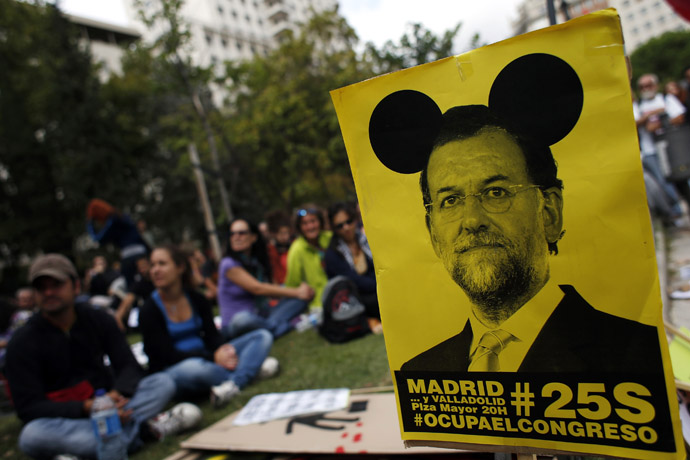 Some 230 Universitat Politècnica de Catalunya (UPC) students set up a rail and roadblock in Barcelona on Wednesday night, burning tires in protest against university fee hikes, layoffs and the state of education, local media reported.
Some 1,400 riot police were deployed in Madrid to ensure demonstrations – reflective of sentiments against the troika of the EU, IMF and European Central Bank – do not boil over into violent clashes. Unrest has also been anticipated in Portugal, which on Thursday marked the 39th anniversary of its revolution; an estimated €800 million in spending cuts are planned in the country.
Thursday's protest comes shortly after previous demonstrations in which Portuguese citizens marched on the capital, most recently on April 16.

France is also facing the prospect of civil protest after the labor ministry released figures showing unemployment has reached its highest level since records began in 1996.

The data for March reveals 3.2 million people were out of work in the country, which is 11.5 per cent higher than in the same month last year and 1.2 per cent higher than in February.

MEPs call for Troika to be disbanded

The handling of this year's Cyprus bailout has only served to fuel widespread concern over European bailouts and cuts in government spending.

Members of European Parliament (MEPs) have recently lashed out at the handling of the situation in Cyprus. "We have to end the neo-colonial behavior of the Council and the troika in Cyprus," MEP Hannes Swoboda said during a European Parliament debate on April 17, calling for the Troika to be disbanded.

In Cyprus, large depositors stand to lose up to 60 percent of their savings as the country enforces the controversial conditions of a €17-billion bailout, which jumped to €23 billion this April.

Olli Rehn, the EU Commissioner for Economic and Monetary Affairs, said on Wednesday that a more gradual adjustment would have been preferable. MEPs continued to highlight flaws in the procedure, with Takis Hadjigeorgiou, a Cypriot member of left-wing group GUE/NGL, pointing out that the measures would never have been imposed on a larger country.

Cyprus has already put plans in motion to sell €400 million ($525 million) of the country's gold reserves to help finance the bailout. At the same time, Italy has turned over castles and monasteries to luxury hotel chains for development as niche resorts in a bid to foster economic growth.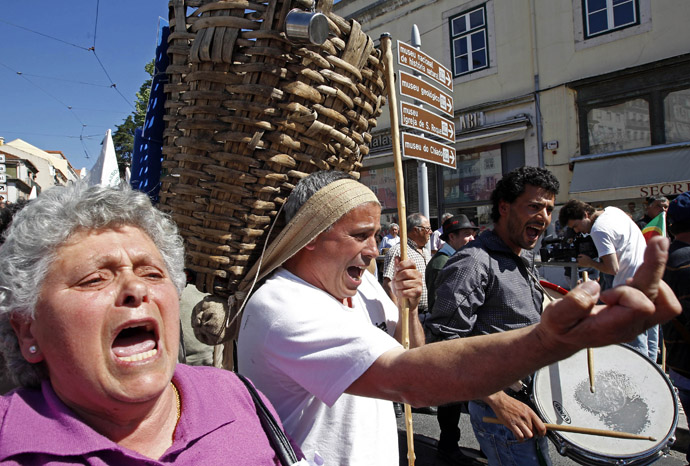 Some MEPs are critical of the handling of the crises as symptomatic of a wider problem within Europe. "They're not really in this [the EU] to handle the crisis but just to increase the amount of power that they have," Auke Zijlstra MEP, a spokesperson for the Cyprus Party for Freedom, told RT.
"We can see that with Cyprus – they're losing their independence," Zijlstra continued, pointing out the resilience and endurance of the EU in the face of hard-hitting realities.
Eurozone unemployment levels have exploded, hitting an all-time high of 12 percent in February. Massive protests shook Europe across 2012, with Greece and Spain among the worst-hit by violent demonstrations that left scores of people injured. Spain witnessed a surge in Catalan separatism, and Greece, among other countries, saw a massive increase in suicides and attempted suicides, particularly among the elderly. In April 2012, protests tore through Athens after a retired 77-year-old pharmacist shot himself in the head, blaming austerity measures and the debt crisis in a suicide note.
"It doesn't matter for the commission if things go wrong because they will still be there the next day, but everyone in such countries is looking for a solution and they are willing to accept a worse deal every time. And yes, I fully agree that we should get rid of the troika," Zijlstra said.
The Troika is regarded as out of touch with the interests of residents of EU countries such as Spain and Greece. In April, one German MEP announced his resignation from German politics, saying that "Germany is setting the European house on fire," in an interview with the Guardian.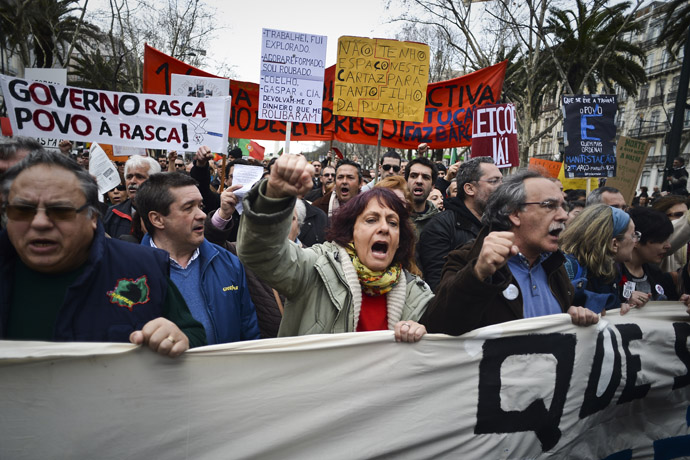 "Germany is focused on national interests much more than EU interests," said Jorgo Chatzimarkakis, who has dual German-Greek nationality.
UK MP Nigel Farage believes that this concern is justified, particularly amid the fallout of the Cyprus bailout scandal.
"I think investors should be worried all over in the eurozone… particularly in the southern eurozone," he told RT.
"What Cyprus has done is given us the template – what they will do in future is they won't bail countries out: They'll bail them in, and they'll do it by stealing investors' money, by taxing people on their properties, and by forcing central banks into selling their holdings of gold." He went on to say that protesters' criticisms of a
"very arrogant Troika" are justified, as people with money deposited in EU bank accounts now run the risk of having their accounts purged and  money
"stolen from them without them having to give their consent."
Farage speculated that an eventual break-up of the EU is unavoidable, suggesting that the Europe-wide protests stoked by the actions of the Troika may be a contributing factor.
"It may not be the economics that break it up – it may be civil disobedience or violence on a very large scale that eventually gets some of those Mediterranean countries out, and after that, the big question is 'what is the European union for?'" Farage said.
You can share this story on social media: