Egyptian president refuses to step down, will not seek re-election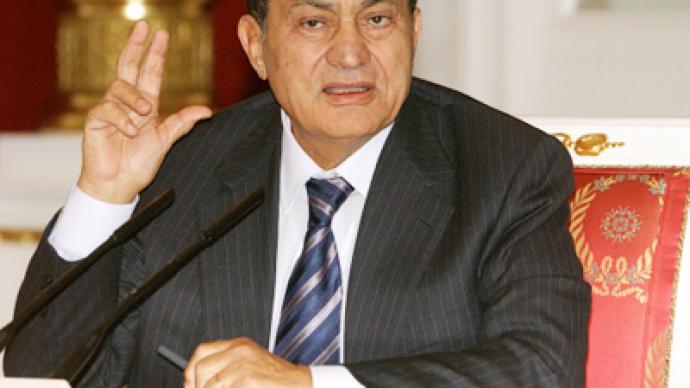 After more than a week of violent protests across the country, Egypt's president Hosni Mubarak has announced he will not seek re-election in September. This has not stopped the protests, demanding Mubarak steps down.
"I tell you in all honesty and sincerity, regardless of the current circumstances, I never intended to be a candidate for another term,"  he said. "I will work for the remaining final months of my current term to accomplish the necessary steps for the peaceful transfer of power."Mubarak pledged to reform Article 76 of the constitution, which currently makes it virtually impossible for independent candidates to run for office, Al-Jazeera television reports. Mubarak added that his government would focus on improving the economy and providing jobs.The Egyptian president refused protesters' demand to step down immediately and leave the country."This is my homeland," he said. "I have lived in it, I fought for it and defended its soil, sovereignty and interests. On its soil I will die. History will judge me and all of us."However, Mubarak's words did not satisfy protesters.Watching his speech on a giant TV in Tahrir Square in central Cairo, many booed and waved their shoes in the air, AP news agency reported. "Go, go, go! We are not leaving until he leaves," demonstrators chanted.Following the speech, clashes erupted in the city of Alexandria between government supporters and protesters. Witnesses reported gunshots.Shortly after Hosni Mubarak's address, the Egyptian military called for protesters to end the demonstrations. The announcement was made on state television. "The army forces are calling on you," the army spokesperson addressed protesters. "You began by going out to express your demands and you are the ones capable of restoring normal life."
International reaction
On Tuesday, US president Barack Obama called on the Egyptian leader to begin the transition process immediately.Obama's special envoy to the country, Former US Ambassador to Egypt Frank Wisner had earlier told Mubarak that the US "saw his tenure as president coming to a close", AP quoted an unnamed US administration official as saying.Russian Foreign Minister Sergey Lavrov urged the international community to let the Egyptian population decide their future themselves. "We want to see Egypt as a stable, thriving, democratic state," he said. "We want the current social, political and economic problems to be resolved as soon as possible through peaceful means but it is up to Egyptian politicians and the people to decide how this could be done in practice." "We do not think that it is helpful to impose solutions from outside, even ultimatums. Egyptian political forces need to find a consensus," Lavrov added.
According to American foreign policy analyst Robert Naiman, although the United States is forced to shift its rhetoric against Mubarak, without him American interests in the region might be badly hit. "What are these US interests? They are very narrow," he said. "For example, trying to maintain the economic blockade on Gaza. This is the policy that the current Egyptian government has pursued, supported for the US, maintaining the split between Fatah and Hamas among the Palestinians. These are policies that are likely to fall if there is a democratically-elected Egyptian government."
Brazilian journalist Pepe Escobar says the US pressuring Mubarak is hypocritical after its 30 years of blind support."It is very complicated for the US," he said. "This guy, after all, has been propped up by the US for 30 years. The police state that he set up and tortured virtually everybody that stayed in Egypt that was progressive. Otherwise, these people were exiled. This was also supported by the US. When Hillary Clinton says that we have been encouraging Mubarak to do reforms, this is absolute nonsense. They started doing this probably two days ago, not 30 years ago."
Professor Seyed Mohammad Marandi from the University of Tehran says that the US will want to preserve its power in the region. Despite the rhetoric, he believes Washington would like President Mubarak to stay in office, though evidently it is no longer possible. "They are not on the side of the people and the people recognize that. They are playing a double game. They are, on the one hand, very much on the side of the establishment, on the side of Mubarak, Omar Suleiman, but on the other hand, they tell the Egyptian people that they hear their voices and they wish and pray for their freedom, but we all know that the ruling establishment cannot last without American support," says Marandi.
Marc Almond, a history lecturer at Oxford University, says that the interests the US is pursuing in Egypt are very different from those of Arabs in the streets of Cairo and other Egyptian cities. He thinks lobbying a suitable Mubarak successor will be a very tricky task for Washington. "ElBaradei is what we might call a back-stop. He is, from the point of view of the street and opposition, the least objectionable person to the Americans who has also patched some growing trust amongst Egyptians. Really, I think what the Americans would like is somebody from within the regime, somebody whom they could trust to carry on the home policy, good relations with Israel, somebody who would not change the fundaments of the economic policy", Almond says.
On Tuesday, over two million people took to the streets of Cairo demanding Hosni Mubarak steps down. Over a week of protests 300 people have reportedly been killed and 3,000 injured.
You can share this story on social media: