'New constitution protects freedom, paves the way for democracy' – Morsi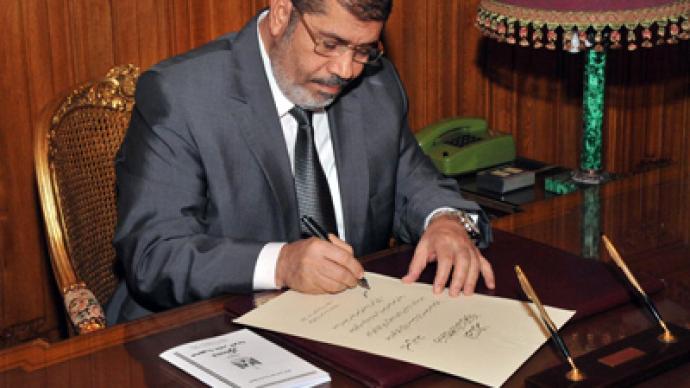 Hours after signing into law Egypt's new constitution, President Morsi addressed the nation saying the new charter grants freedoms, makes the president the servant of people and paves the way for the new Egypt.
The president congratulated Egyptians with their new constitution, which, he said, will pave the way to a new stage that would "bring security and stability for the people."He stressed that the referendum, held in two rounds over two past weekends, took place with "full transparency and full judicial supervision."President Morsi criticized those responsible for the weeks-long violence, but said that polarization of society and differences of opinion and thoughts indicate a healthy situation in the country.He has also urged "all parties and political forces to participate in the national dialogue sessions," saying that changes to the cabinet would be made if necessary. Saying that the constitution was passed with nearly a two-thirds majority, Morsi however acknowledged that a respectable proportion said "no.""I will deploy all my efforts to boost the Egyptian economy, which faces enormous challenges but has also big opportunities for growth, and I will make all the changes necessary for this task," Morsi said in his televised address to the people of Egypt.While Islamists called the referendum and new constitution a crucial step in Egypt's transition to democracy, the opposition saw it as a threat to civil liberties.The main opposition group, the National Salvation Front (NSF), rejected a 'national dialogue' body that Morsi had launched earlier, describing it as'farcical and theatrical'. It said it will continue its "peaceful struggle against the constitution… through all democratic means, including litigation, demonstrations and sit-ins.""The president is talking to himself,'' Hussein Abdel-Ghani, a leading figure in the group, told a press conference after Morsi's speech. He pointed out that most of the representatives in that dialogue are either Islamist parties or "cardboard'' opposition, likening it to old attempts by Mubarak's regime to appear to be reaching out to the opposition. Fromer IAEA chief and the leader of the NSF Mohamed ElBaradei said the constitution was "void" as it conflicts with international law in regard to "freedom of belief, expression, etc".
Egypt constitution void as it conflicts w/ certain peremptory norms of international law "jus cogens" e.g.Freedom of belief,expression etc..

— Mohamed ElBaradei (@ElBaradei) December 26, 2012
Activists are fiercely opposed the new constitution, which was hurriedly drafted by the majority of the Islamist-dominated Constituent Assembly. They argue that the charter, which is based on Sharia law, is not representative of Egypt's religious minorities and is an affront to the values of the revolution that toppled former President Hosni Mubarak last year.
You can share this story on social media: