Tear gas in Alexandria, Egypt, as constitution protesters and supporters clash (VIDEO)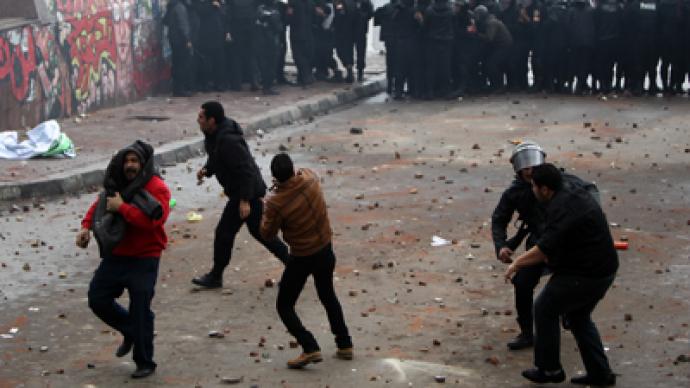 Egyptian police have fired teargas to disperse clashes in the port city of Alexandria. Thousands of Islamists were met with furious opposition as the first gathered to support Egypt's new constitution, which enshrines Islamic law in the legal code.
Following Friday prayers, thousands of Alexandria residents rallied in front of Qaed Ibrahim Mosque to "defend [Islamic] scholars and mosques" and to call for Sharia law, Ahram Online reported. The crowd chanted slogans like "the people want the implementation of God's Sharia," and "we sacrifice our soul and our blood for Islam".Hundreds of opponents of the draft constitution then began flocking into the square. Police had to intervene after the two groups began hurling rocks at each other. Officers tried to form cordons to separate the parties, AFP reported.Clashes erupted amid the stone-throwing, and the security forces fired tear gas after the police cordons failed to separate the two groups. Over 50 were injured in the violence, Egypt's Healtjh Ministry said.
Qaed Ibrahim Mosque was a focal point for violence in Egypt's second-largest city last week. Friday's rally also protested the siege of the mosque during the previous week, which was sparked by a cleric's call for people to vote yes in the constitutional referendum.The renewed violence comes on the eve of a referendum vote on the controversial constitution – the second and final round of voting is set to take place on Saturday. The first round took place previous Saturday, when 50 per cent of the country went to the polls. Unofficial results said the constitution was passed with a narrow majority of 56.5 percent of the vote. The opposition slams the new document for being too rooted in Islamist doctrine and not representative of Egypt's minorities. President Mohamed Morsi claims that the document is necessary to usher in a period of transition in Egyptian politics. Tensions have been running high in the world's largest Arab nation where the new constitution has effectively split the country in two. Over 120,000 troops and 6,000 tanks had to be deployed around Egypt to protect polling stations and government buildings. Three weeks ago Morsi assumed new powers that allowed him to take decisions without the review of the judiciary. He was forced to relinquish these extra powerson December 9 to quell public anger after thousands of protesters gathered at Cairo's presidential palace to decry the new measures.
You can share this story on social media: