"New" regime uses same old methods in Egypt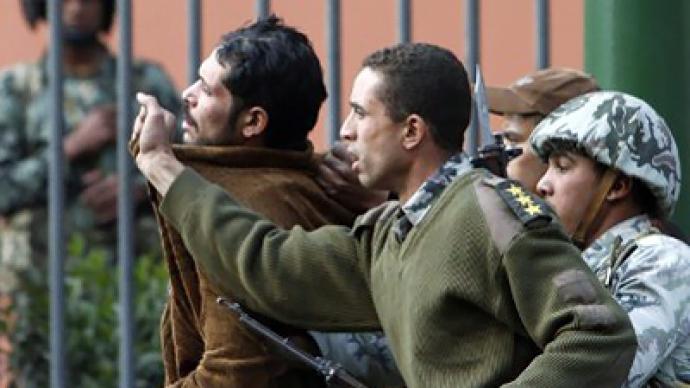 At least 7,000 civilians have been sentenced to prison terms by military courts since Hosni Mubarak was ousted in February, Egypt's military rulers have told human rights advocates.
"This includes protesters, activists, thugs, ordinary criminals and innocent passers-by. They all received jail sentences," reports the Miami Herald news website citing Heba Morayef, a Cairo representative for Human Rights Watch.  On Monday the human rights group "No Military Trials for Civilians" met with the Supreme Council of the Armed Forces (SCAF), which has been running the country since President Hosni Mubarak was ousted on February 11.Campaigners have demanded the end of trials of civilians by military courts, insisting that they be referred to civilian courts instead. They are also demanding that the right to hold peaceful strikes, which was gained after the revolution, be upheld. They also stressed that protesters should not be referred to military courts.They also asked the government to guarantee the security of peaceful gatherings and protests, and for the release of five oilfield workers who were detained during the strike last week by military police on charges of illegal gathering and occupying a public road. They now face military prosecution.The ruling SCAF has promised to review the cases and reverse any improper guilty verdicts and commute the sentences. It has also promised to increase the powers of the civil courts.    However, human rights watchdogs are skeptical, saying not much has changed since President Mubarak stepped down.  "This is not the first time they've promised. We were offered no guarantees whatsoever," Miami Herald quotes Mona Seif, a member of the No Military Trials group.  The role of military courts in arresting political dissidents and peaceful protesters has become a major topic since military police stormed Tahrir Square in central Cairo on March 9, nearly a month after Mubarak's resignation, and arrested 173 protesters gathered there.  A total of 123 have received sentences ranging from three to five years in prison.
The journalist Austin Mackell says that everything that is currently happening in Egypt happens "in the dark" and it is difficult for people to get information. "We have very little information about the charges. It is not clear which of them are actually being accused of criminal acts and which are basically political prisoners,"  Mackell said.
David Keyes, director of Cyberdissidents human rights organization, believes the Egyptian government and the Supreme Council are lacking in transparency:"There are thousands of people arrested and detained without trial. My hope is that the Egyptian government supports freedom of speech instead of continuing to crack down on dissidents and bloggers who disagree and insult the military," stated Keyes.He also stated a number of arrests are very disturbing:"A few days ago a young American citizen was arrested in Egypt on the charge of spying. And this most surely is a fabricated charge. It seems the Egyptian military is taking a turn for the worse. This is a classic sign of dictatorship – finding enemies and spies in all sorts of places," maintained Keyes.According to Keyes, the most disturbing fact is that many people have been jailed simply for criticizing the government. They were not intending to undermine the regime, but were simply voicing criticism of the military.Now whoever rules Egypt will have to listen to the demands of the people more than the previous regime did, believes Keyes:"The Egyptian rulers have to recognize now that they cannot continue to ignore people's desire for reform and change," concluded Keyes.
In the latest in a string of arrests an ex-Guantanamo prisoner, Adel al-Gazzar, has been detained on his arrival in Egypt. Investigative journalist Gada Eldemalawi working for Reprieve, a human rights watchdog, told RT that Adel al-Gazzar is an Egyptian who traveled to Pakistan in 200 on a religious mission:"On the outbreak of war in Afghanistan in 2001 he volunteered to go and help people out there. Two hours after he had crossed the borders he was injured by a US airstrike and taken to a Pakistani hospital. A month later he was transferred to Kandahar prison where he spent another 11 days and was treated really badly. Then he was taken to Guantanamo Bay. He wasn't allowed to leave till January 2010," said Eldemalawi.While Adel al-Gazzar had been hoping to return to a 'free' Egypt, his attempt has ended with being thrown into jail. "He was arrested at the airport and spent the night there. In the morning he was presented to the prosecution and signed an acknowledgement that he knows about his sentence. He was taken back to the airport again, and tomorrow it will be decided in which prison he is going to wait for the trial," explained Eldemalawi.
Carmen Russell-Louchansky from the Voice of Russia radio station hopes that the majority of the prisoners will be released."This is a very transitional period, so you could expect some of these things happening, though it does not mean we have to allow them. One of the first things the newly-elected government is going to have to look at and one of the first things the Egyptian people will have to demand is that they go through the 7,000 cases in a case-by-case review and then send them to civilian court," explained Russell-Louchansky. "My guess is the majority of these people will not be found worth the trial because there were high sentences with highly questionable evidence and for minor crimes," he concluded.
You can share this story on social media: