Hosni Mubarak resigns his post - Egyptian VP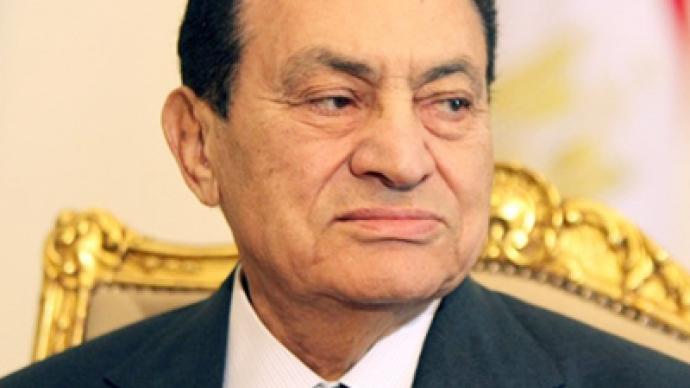 Egyptian president Hosni Mubarak has stepped down from his post and handed over power to the military.
Egyptian Vice President Omar Suleiman announced the news on national TV on Friday, AP news agency reported. "In these difficult circumstances that the country is passing through, President Hosni Mubarak has decided to leave the position of the presidency," Suleiman said. "He has commissioned the armed forces council to direct the issues of the state."Hundred of thousands of protestors in central Cairo exploded with joy over the announcement, cheering and waving Egyptian flags, AP reported.  Car horns and celebratory shots in the air were also heard all over the city, the agency said.The development comes on the 18th day of protests in the country, with demands that Hosni Mubarak step down. During his speech late on Thursday, Mubarak pledged to stay in power until upcoming presidential elections in September.
World gets vocal over Mubarak's resignation
The Middle East has met the news of Mubarak's resignation with fireworks and festivities. Just moments after the announcement, Lebanon's capital Beirut was bathed in fireworks. Thousands have also taken to the streets in Gaza to express solidarity with the Egyptian people.   Secretary-General of the Arab League, Amr Mohammed Moussa, has welcomed the resignation and said that now the country has a chance to move forward.  Other parts of the world did not remain silent, either. Russian Foreign Minister Sergey Lavrov expressed the hope that Hosni Mubarak's resignation will help restore stability in Egypt. "We hope that the latest events will help restore stability and provide normal functioning of all institutes of power [in Egypt] and that not only the present government but also opposition powers will express readiness to stabilize the situation," he said.The European Union also had their say about the recent events in Egypt. High Representative for Foreign Affairs and Security Policy of the EU Catherine Ashton said that she respects Hosni Mubarak's decision to resign. She added that his decision paves the way for quick and deep reforms in the country.US Vice President Joe Biden has called Mubarak's resignation a pivotal moment in history, while German Chancellor Angela Merkel wished Egyptians courage and a future without corruption, censorship and torture.Switzerland, in turn, announced that it is immediately freezing any money linked to Hosni Mubarak and his family, AP reports.
"Mubarak is history": resignation comes as no surprise for western powers
"Mubarak is history"- these words of the Danish Prime Minister have come as an accurate prediction. President Mubarak resigned on Friday, marking an end to the leader's 30-year regime and a victory for the Egyptian people."All the people here do not need Mubarak anymore," said one of the Egyptian protesters. "Obama told Mubarak to try and fix all the problems here and Mubarak can fix nothing."The Western willingness to be so vocal about what amounts to an internal dispute has been viewed as inappropriate interference and a contradictory one, at that. The U-turn in opinion is coming from Western leaders, who until recently supported Hosni Mubarak as a force for stability in the region. "My belief is that an orderly transition must be meaningful, it must be peaceful and it must begin now," US president Barack Obama said in the early days of the popular uprising in Egypt.Perhaps Western policy should have pressed far harder upon existing regimes such as Mubarak's about restricted political freedoms and damaged economic progress. Instead, the US gave him US$1.5 billion per year for his armed forces alone, and it was largely Western support that kept Mubarak in power, and this is a fact the Egyptian people are well aware of."They supported the Egyptian regime for such a long time and, in fact, they armed the Egyptian regime and now they are talking about democracy and respect for human rights," said an Egyptian citizen in London. The protesters' struggle against the autocratic regime saw them fighting empty promises and weak concessionary comments… and not just from Mubarak."The European and world leaders do not have a proud record in terms of sticking up for democracy and human rights sufficiently in the past," said Richard Howitt, Member of European Parliament from UK Labor Party. With Mubarak's departure the Egyptian people will now be looking for a real political commitment to change, both internally and internationally.  Tahrir square in the central Cairo has been the recent epicenter of Egypt's democratic hopes, the stage for the people's revolution. It is right there that the battle for better governance should be fought.Western involvement now needs to tread carefully, ensuring they are encouraging genuine and lasting reform, as opposed to simply fuelling an impassioned revolution which risks simply replacing one tyrannical regime for another.
According to author and Middle East specialist Jean Bricmont, Hosni Mubarak was most likely forced to step down. "The more realistic people realized that Mubarak had to go if they wanted to return to some sort of quiet situation," he said. "Those people have won for a moment but, of course, it is quite obvious it is not going to be enough of a concession for demonstrators."
Professor Mark Almond from Bilkent University believes that the US might be behind Mubarak's sudden decision to resign. "I think that his sudden decision to step down was obviously caused by the fury that he sparked in Washington, having made president Obama and the head of the CIA look foolish yesterday when they said that he was going to announce his resignation," he said. "Americans must have been working the phone lines not just to Mubarak last night but particularly to the generals to press him to go," Almond added.
War correspondent Yvonne Ridley agrees with Mark Almond's assessment. "I think that he had a phone call from the White House that persuaded him to leave," she said. "The problem facing a dictator like Mubarak is when you have many billions stashed away, he obviously had to seek assurances that his assets would not be frozen, as has happened in Switzerland, as we have heard already. There are lots of things that I think he has had to sort out and there has obviously been a lot of deals going on behind the scenes."
William Spring, leading expert in foreign policy, believes Mubarak has delegated the responsibility to announce his resignation to the Vice-President as he could not bear to face his audience in such circumstances. On the one hand, Mubarak could not resist the pressure from the military and Washington any longer, on the other hand, it was the previous night he had stated that he was staying on till September. Spring is dissatisfied with the degree of Western involvement into the situation in the Middle East. Mubarak's assets have been frozen by the Swiss authorities. "This is an appalling situation," Spring says. "Suddenly the European Union wakes up after 30 years to the fact that there have been major violations of human rights. This is unacceptable. What have they been doing for the previous 30 years when Mubarak was putting down the opposition by force? It is only the last week or so when we have seen the degree of brutality of Mubarak's regime. What about the assets of the other dictators who are still in power now?"
Ivan Eland, the senior fellow at the Independent Institute in Washington DC, points to the contradiction between US's internal and external political stance, especially revealed in Washington's position towards Mubarak's regime. "There is a bigger problem in the US policy and that is cozying up to dictators in the first place that we really shouldn't cozy-up to. And then when we are given the trouble, we get into this hypocritical position of supporting an autocratic regime when we are spreading democratic rhetoric here in the United States. I think this is a hypocritical policy which many countries call the US on and it has been demonstrated in Egypt that this occurred," Eland said.
Asia Times journalist Pepe Escobar says Egypt is one of the pillars of US policy in the Middle East due to its relations with Israel in recent years. This explains the US's deep involvement in Egypt's current crisis. But Escobar is far from calling the unfolding events a revolution."What took place in Egypt is a military coup, and a military coup inside the army," says Escobar. "Mubarak and Suleiman, of course, they are also military men. But they were being opposed by Annan, Chief of the Army, and Tantaui, the Minister of Defense. These are part of the Supreme Council that is issuing these communiqués, two so far, probably more. And they have a very close relationship with the Pentagon.  Tentaui is very, very close with Robert Gates [US Secretary of Defense]. They talked on the phone at least five times this past week. So obviously, Washington will be supervising anything that happens in Cairo that is intimately connected with the Supreme Military Council. So it is still a military dictatorship."
You can share this story on social media: