Farewell Friday or Hosni forever?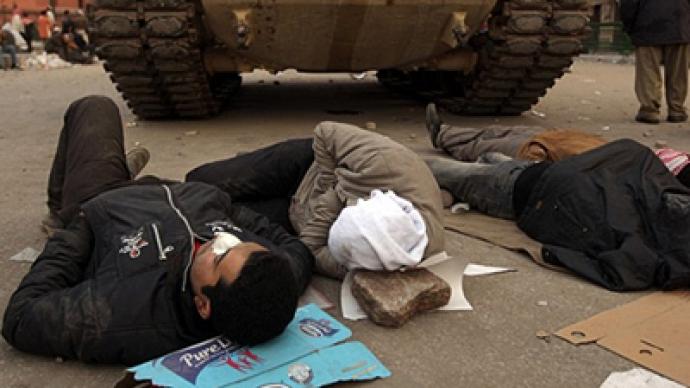 Friday morning began with a muezzin's cry. A mosque is right near my hotel. I decided to drive around the city, if possible. The wrought iron door of the hotel was fastened with a chain and fixed with a crowbar as thick as my wrist.
"Did anyone go out since yesterday?", I asked the guards, who let me out of the hotel even at night without saying a word. They say they do not do such things in other hotels. A Greek TV crew staying at the Hilton told me they were refused when they tried to prolong their stay, even though the rooms had been booked and paid in advance. French correspondents packed and left, tired of security agencies' attacks and arrests. All live cameras have disappeared from the places they used to be. "No, but today's a very dangerous day! Did you hear, it's 'Farewell Friday' today?", the guard told me as he unfastened the chain.For about 15 minutes I did not see a single car on the embankment. But there were ranks of soldiers in bulletproof vests and helmets with submachine guns. They blocked the streets, guarded banks, embassies and government buildings. But they were in the wrong places and there were very few for real protection. Along with an increasing number of tanks, it made an impression of a new intimidation of the people.
A route that used to take 15 minutes now transformed into a long ride. Every now and then I saw groups of three or four with iron rods. There was a young man with a meter-long knife. He used it to show directions. From time to time I saw detached units of 50-70 people with a bobtail flag on their way somewhere, chanting "Mubarak – our president."The bridge on the way to Tahrir Square was crowded with people coming to the square. Tanks were placed in such a way as to leave a narrow passage for people. Journalists and women were let in without much hassle. Every time they searched me, women begged forgiveness and asked for understanding. I had a lot of it, except that it is hard to understand – for a native of Russia, the native land of real revolution – what's the point in such a violent defense of a regular city square, and why they chose it for expressing their irrational persistence. The only thing that came to my mind was the story about a Spartan boy who did not give a cry of pain while a fox was eating out his insides.
People came and left. As usual, some slept or ate, others danced, and there were some who spoke with lots of rage. There was also a new thing: children, almost babies, quoting political verses.A group of sheikhs from the oldest university, Al Azhar, appealed to Mubarak to step down. The Al Azhar sheikhs are a very powerful force in Egypt who have preserved neutrality for a long time. Al Azhar's authority is hard to compare to that of any institution in the West. Losing their support is as important as losing support of the army. The defense minister came to the square in person. By Egyptian standards, regardless of what his subordinates have said, by doing so he acknowledged the legitimacy of the protests, expressing his support for the peaceful demonstration. That's exactly how the people in the square perceived his visit, though the authority of any official for a rebellion is very low.
Amr Moussa, head of the Arab League, also visited the square. While Baradei said in an interview that he would not participate in the presidential election, Moussa, by contrast, said that he would not mind. From conversations with people in the square, it was clear to me that none of those politicians are favorable candidates. The Muslim Brotherhood organization confirmed that they would not lay claim to a presidential seat and that they were not negotiating it with the authorities, despite the fact that Vice President Omar Suleiman had invited them to the negotiating table and Mubarak in an interview to ABC threatened Americans that after his departure they would come to power. At the Muslim Brotherhood organization's headquarters, a sort of stage was finally built. The majority of people gathered around it. Now that was the place that was going to be transmitted live 24/7 by all security cameras. At about 5pm., there was a rumor that Mubarak would agree to step down on the guaranty of his security. People jubilated. They prayed and embraced each other. The wind was weaving a dummy hung on a street-lamp. But soon they learnt that the rumor was not true.
And everybody went back to their business: doctors were giving injections, girls were picking up trash, educated folk were discussing the political moment. Two Egyptian journalists, both girls with a very European look, came to the Muslim Brotherhood makeshift headquarters. From the way they were greeted, it was obvious that the West was too quick to label the brotherhood as a threat to freedom full of fundamentalists who strongly supported a strict dress code for women."Final Friday" was coming to an end. The march to Mubarak's palace, which had been promised earlier, was not starting, and Mubarak was not at the palace anyway. It seemed like nobody even thought about him anymore. The army would not have let people walk out of the square in this direction anyway. After midnight the supporters of the regime started provocations by shooting, yelling and setting off their car sirens. But people from the defense front lines called me and said that the defense line was intact. So far there is no strategic plan after the final Friday, unless you count the continued demonstrations a plan. We don't know who will benefit from this.
Nadezhda Kevorkova, RT
You can share this story on social media: