Egypt's interim leader gives green light for civilian arrests
Published time: 28 Jul, 2013 23:59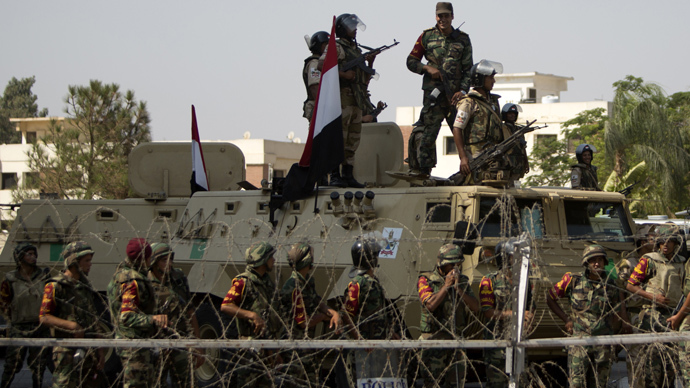 Egypt's interim President Adly Mansour has signed a decree giving the military the right to arrest civilians. The move has sparked fears of a further escalation of violence throughout the country.
The death toll from Saturday clashes between security forces and supporters of ousted president Mohamed Morsi has risen to at least 80, unnamed officials from Egypt's health ministry told AP.

Two more people were killed on Sunday as violence broke out during the funerals for those who had lost their lives in the preceding days.

The deaths occurred in two separate incidents: one in the Suez Canal city of Port Said, where 28 people also reportedly sustained injuries, and the other in the town of Kafr el-Zayat in northern Egypt.

The figures have made Saturday the bloodiest day in Egypt since Morsi's deposal, with the interim president's office stating that it was "saddened" by the loss of life on such a large scale. The office added that any action taken by the military is carried out in the "context of terrorism."

President Mansour's decree, which allows Prime Minister Hazem El-Beblawi to give the military power to arrest civilians, was announced in the government's official gazette on Sunday. The decision could lead to a major crackdown on both Brotherhood supporters and militants who have been attacking security forces in the Sinai Peninsula with renewed vigor, government officials say.

This decree is not the first time that Egyptian armed forces have been given the go-ahead to arrest civilians. In June 2012, the previous army-backed interim government tried to issue the same order following the stepping down of former President Hosni Mubarak. The decision was immediately challenged by human rights activists and politicians who accused the military council of reviving an unpopular emergency law that lapsed the previous May. An Egyptian court eventually overturned the justice ministry's decree.

On Saturday, US Secretary of State John Kerry called on Egypt's military-backed interim government to "act immediately to help their country take a step back from the brink," expressing deep concern over the situation and calling it "a pivotal moment for Egypt."

EU foreign policy chief Catherin Ashton arrived in Cairo on Sunday to meet with a host of officials, including  Mansour and Vice President Mohamed ElBaradei - who in a statement expressed his desire for Egypt "to achieve a peaceful solution to the current crisis." State news agency MENA said that Ashton will also meet with members of the Muslim Brotherhood, as well as the Tamarod group, who was the driving force behind the protests leading up to Morsi's ouster.

The former Islamist-backed president was in power for only one year before being deposed by the Egyptian armed forces on July 3. The move sparked nationwide protests and widespread violence, painting a scene similar to the events of February 2012 which led to former long-time President Hosni Mubarak stepping down.