Egypt's post-Morsi constitution gets almost total voters' approval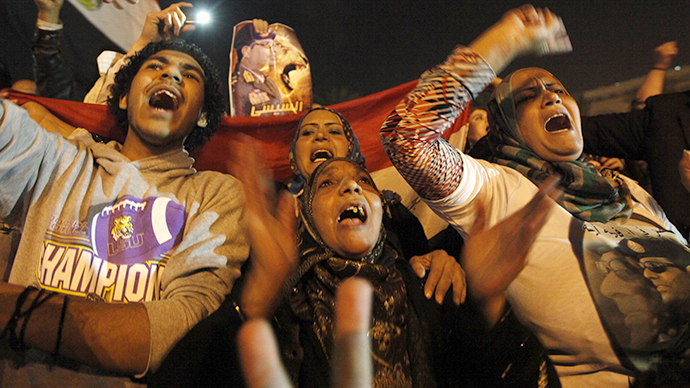 Exactly 98.1% of Egyptians said yes to the new constitution in this week's referendum. The outlawed Muslim brotherhood says it does not recognize the vote, which saw some 20 million, or over 38% of registered voters, participate.
Nabil Salib, head of the Supreme Election Committee, said the vote was an "unrivalled success" while no major political faction was pushing for a "no" vote, as many Egyptians saw approving the constitution as the first step towards restoring stability.
"Now that God has supported us in legalizing our constitution, we ask for his aid in achieving the remaining two stages of the road map: the presidential and parliamentary elections," Salib said.
One of the contentious issues in the constitution was an article stipulating that Sharia law will be the main source of legislation, as was the case during the toppled regime of Hosni Mubarak.
Egyptian Christians and liberals on the constitutional committee attempted to remove all mentions of Sharia law from the constitution, but the ultraconservative Salafi party, Al-Nour, insisted the reference to Sharia law remain, albeit in a watered-down version.
However, the new constitution in terms of liberal values is generally is seen as an improvement on the Muslim Brotherhood constitution of 2012 as it eliminates various articles that gave legal and political authority to Egypt's highest Islamic Institution, the Al-Azhar University.
Another principle article was bans formation of religious parties or parties based on religious grounds -a setback for the Muslim Brotherhood, which was outlawed in December last year because of its ideological differences and continual protest against the military since it was ousted from power in the military coup of July 3.
The new constitution also allows a presidential election to be held before parliamentary vote in a change to the transition plan announced by the army in July.
The turnout, though not hitting predicted 55 percent, was still higher than in the 2012 referendum on the constitution, which was drafted while Mohamed Morsi was in power. Then, only 17 million people participated (or 32.9 percent) and the charter was approved by 64 percent.
There were no reports of any major irregularities in the vote, though there were just 5,000 monitors for more than 30,000 polling stations.
The Muslim Brotherhood boycotted the poll, saying it was illegitimate, as did several revolutionary groups and there were reports of low youth turnout in general.
Now the charter has been approved, Interim President Adly Mansour is expected to announce within days whether the presidential poll will take place before the parliamentary poll. General Abdel Fattah Sisi, the popular defense minister, who led the coup against Morsi is expected to win, although he has not yet confirmed that he is running.
You can share this story on social media: