17 dead, over 50 injured in Egypt clashes (PHOTOS, VIDEO)
At least 17 people have been killed across Egypt in a wave of protests, which saw demonstrators clashing with police forces. Over 50 other people were injured in the violence.
Cairo, Alexandria, and Fayoum and Ismailia have all seen deadly scuffles as the Muslim Brotherhood-led National Coalition to Support Legitimacy organized protests on Friday.
The protests were part of the Brotherhood's boycott of the upcoming constitutional referendum.
A security official told AP that 17 people died across the country, with 58 people injured nationwide. The Muslim Brotherhood places the death toll at 19.
In addition, authorities arrested 122 Brotherhood members for possession of weapons, the Interior Ministry said in a statement.
The Egyptian government has vowed to confront the Muslim Brotherhood with "full force".
In Nasr City, a suburb of Cairo, police wearing bulletproof vests used tear gas to disperse demonstrators who threw rocks, set tires on fire and assaulted police lines.
Security forces also fired teargas at the nearby Al-Azhar University where a number of students were marching.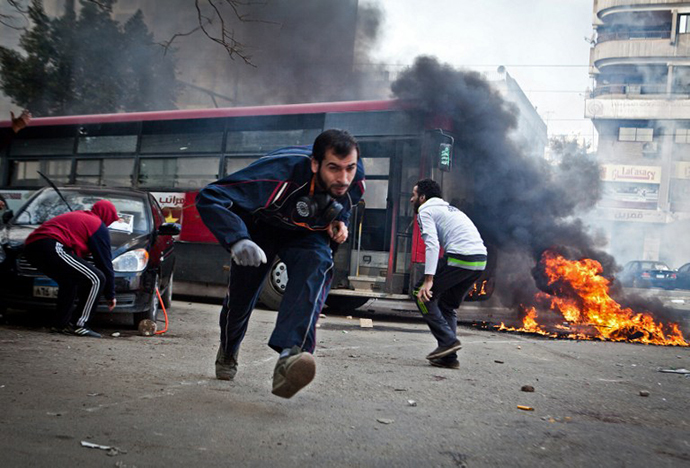 Brotherhood supporters set the Faculty of Agriculture building at the university on fire and damaged administrative offices inside before police stepped in, Al-Ahram reported.
Also, law enforcement used teargas against 300 pro-Brotherhood stone-throwing supporters near the High Administrative Court building in the southern suburb of Maadi.
The county's Health Ministry announced that five activists were killed in different districts in Cairo. A security source told Reuters, that they died from bullet wounds but it remains unclear as to who shot them: police or fellow rioters.
A man was also killed by the protesters next to his house, when he insulted the Brotherhood rally.
Deadly clashes also erupted in Alexandria when Islamists clashed with civilians using stones and birdshot before police intervened to stop the violence. A male protester and a woman were shot dead, medical sources announced.
Another demonstrator was killed by police in the Suez Canal city of Ismailia in clashes that happened near a mosque after midday prayers.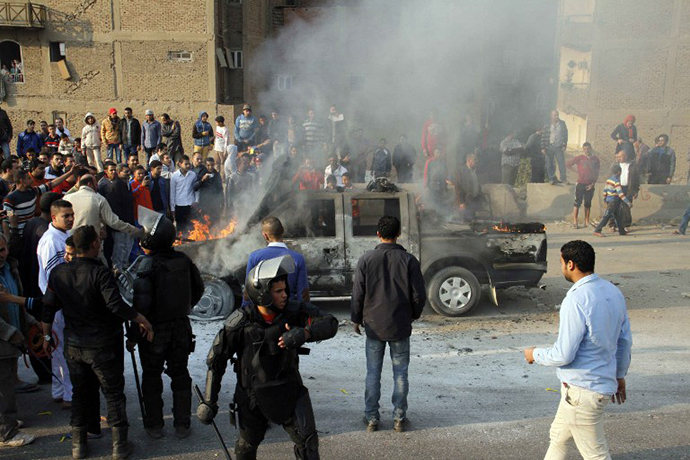 In Fayoum, three protesters, including a student, died from gunshot wounds, while another university student was shot in the town of Minya.
Witnesses in Giza told Al-Ahram that protesters had thrown Molotov cocktails at an armored police vehicle, setting it on fire, and shot at police officers trying to escape from the car.
In the meantime, four soldiers were injured by a roadside bomb targeting a military convoy in the North Sinai area.
The pro-camp of the ousted President Mohamed Morsi rejects the new constitution that was amended in July following a military coup.
Egypt's interim government set January 14 as the start of a two-day referendum on a new Constitution.
In December, the Muslim Brotherhood was branded as a terrorist organization by the new government.
Furthermore, Egypt froze the assets of 132 senior Brotherhood members following a court decree in September which banned the Islamist movement.
On Wednesday, an additional 572 Brotherhood members had their assets frozen by the state which also took over 87 schools run by the Brotherhood.
Although the Muslim Brotherhood may not be ideal but they were elected and the prospects for democracy in Egypt now are virtually non-existent, Ivan Eland, a political analyst at the Peace and Liberty Center, told RT.
"The Muslim Brotherhood is no ideal group of people but if Egypt is to be moved to democracy, I think they'll probably have to be let to rule Egypt. But of course they're not being allowed to rule and the military has taken over and it seems they're harsher than even the Mubarak regime, So I don't see much public support in Egypt for the military government," he said.
Watch the report by RT's Bel Trew report
You can share this story on social media: