Leader of EDL British far-right group quits citing fears of extremism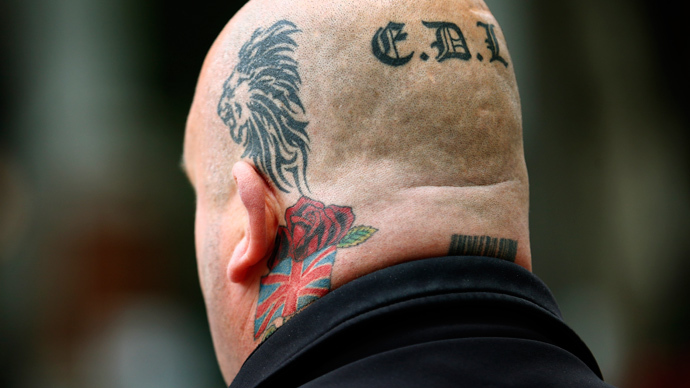 English Defense League (EDL) leader Tommy Robinson and his deputy Kevin Caroll have quit the organization saying they can no longer control far right extremist elements within the group.
The revelation of the sensational decision was announced by Robinson whose real name is Stephen Lennon via counter-extremism think tank Quilliam.
"I have been considering this move for a long time because I recognize that, though demonstrations have brought us to this point, they are no longer productive," the London based foundation said in a statement.
"I acknowledge the dangers of far-right extremism and the ongoing need to counter Islamist ideology not with violence but with better, democratic ideas," Robinson continued.
The EDL has a membership of about 100,000 of whom about 30,000 are active. It has developed into a street protest movement, which opposes what it says is the spread of Islamism and the threat of Sharia law and Islamic extremism in the UK.
More than 600 EDL supporters were arrested at a march in east London last month when clashes broke out after police blocked them from marching past the East London Mosque. The EDL said that this is proof the area has become subject to Sharia law.
Robinson went into more detail about his decision during an interview with the BBC's 5 Live Tuesday.
"When some moron lifts up his top and he's got the picture of a mosque saying boom and it's all over the national newspapers, it's me. And whilst I want to lead a revolution against Islamist ideology, I don't want to lead a revolution against Muslims," insisted Robinson.
Quilliam meanwhile said they hoped to help Mr. Robinson to invest his "time and commitment in countering extremism of all kinds".
Quilliam said that they had identified the reciprocal relationship between Islamism and far-right extremism and believes that Robinson and Caroll walking out of the EDL can help dismantle the "underpinnings of one phenomenon while removing the need for the other".
The statement also called on other members of the EDL to leave and for Islamic extremists to leave their respective groups.
But many have expressed skepticism that Robinson and his sidekick have really renounced their extremist views.
The director of Hope Not Hate, Nick Lowles, expressed cautious optimism in his online blog but warned, "only a complete renunciation of the violence and hatred the EDL leaders have promoted, and a turning away from the anti-Muslim rhetoric they have championed will be enough for the many thousands who have suffered from the EDL's ugly actions over the past three years."
Fiyaz Mughal, the director of the anti-Islamophobic monitoring group Tell MAMA, went further.
"This is an extremely short term measure for Robinson, who needs money, and who is desperate to get out," he told the HuffPost UK.
Robinson co-founded the EDL in 2009, which has regularly staged marches across Britain, which have resulted in sometimes violent clashes with other demonstrators, particularly with Unite Against Fascism.
The EDL however, will not go away just because its two founding members have decided to quit. An EDL spokesman told the BBC the group "will not die because they're walking away".
He added that supporters would spend the next few weeks discussing how to proceed in wake of their leaders quitting.
You can share this story on social media: