Kiev threatens force against eastern Ukraine protesters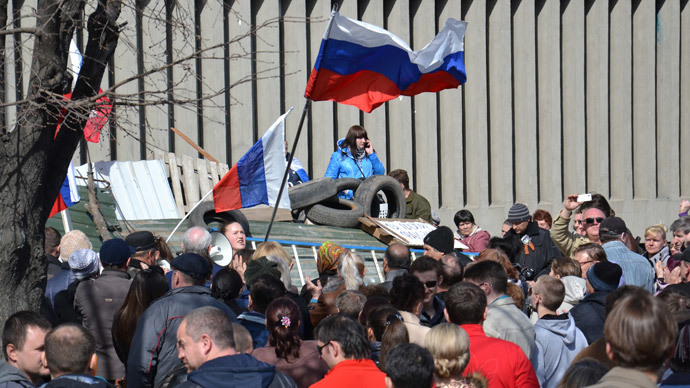 Ukraine's acting Interior Minister is threatening to resolve "in 48 hours" the situation in eastern regions where administrations of at least two cities are controlled by protesters demanding a nationwide referendum on the state structure.
Arsen Avakov told journalists on Wednesday that the coup-imposed government is ready to use force in the mutinous eastern regions.
"There are two solutions: a political one through negotiations or through force," the minister said on the margins of a government meeting.
"For those who want dialogue, we propose talks and a political solution. For the minority who want conflict they will get a forceful answer from the Ukrainian authorities," he said as quoted by Reuters, adding that in his opinion a "solution to the crisis could be found within 48 hours."
The minister informed that a special police task force from western regions of Ukraine has already arrived in Donetsk, Lugansk and Kharkov, cities where protests against the new government in Kiev have been continuing for weeks now.
On Monday, popular assemblies in Donetsk and Kharkov, where local administration headquarters were captured by protesters, declared independence from Ukraine and announced the creation of the independent Donetsk People's Republic and Kharkov People's Republic.
Last night, the police force that arrived from Kiev managed to recapture the local administration in Kharkov, arresting approximately 60 activists and bringing them to a detention center in Kiev. Armed with automatic weapons and masked law enforcement officers stormed the building on early morning and cleared the central square of protesters.
In Kharkov about 30 percent of policemen refused to storm the administration. Avakov has already announced that they will be fired.
A journalist of Russia's Lifenews TV channel reported from the central square of Kharkov that according to evidence witnessed by the local citizens, some police officers dressed in uniforms of the Jaguar riot police task force seem unable to understand when addressed in either Ukrainian or Russian. They reportedly communicate with each other in English.
In Donetsk the buildings of power structures remained under control of the protesters as some police officers refused to counteract protesters.
In Lugansk protesters captured local headquarters of the Security Service of Ukraine (SBU) along with an arsenal stored there. So far there have been no attempts to recapture the occupied buildings.
Activists in Lugansk announced they are not going to leave the building until nationwide referendum on federalization of Ukraine is organized.
Masked members of the group called themselves Southeast Command issued a video in which they expressed firm readiness to protect their interests with arms.
They stated that they all are from Lugansk or the local region, that every one of them has Ukrainian citizenship and there are no representatives of any Russian special services such as the FSB, or any Russian citizens as such inside the building.
"We represent veterans of Afghan campaign, former border guards and other peaceful trades, and we have just a single legitimate demand: we want a referendum," the statement says.
"This is expression of the will of the people – and we want to be heard," the group stated and strongly recommended "not to mess with active duty officers."
"If you go against us, welcome to hell. We'll make a decent stand. Godspeed, officers!" the manifesto ended.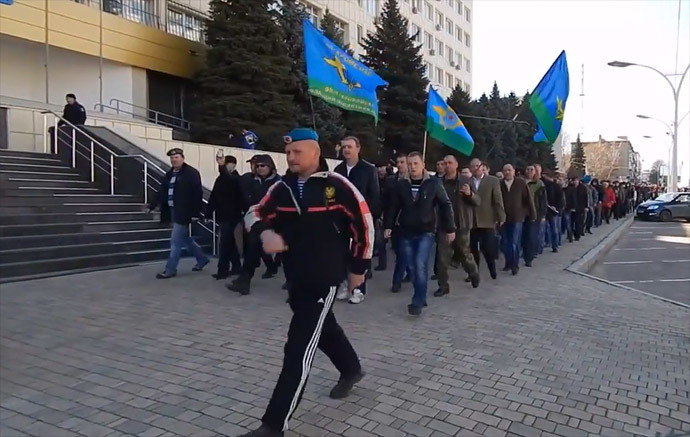 Ukrainian presidential candidate Sergey Tigipko, who arrived in Lugansk and conducted negotiations with the activists who barricaded themselves inside the SBU headquarters, confirmed that all activists are Ukrainian citizens.
Politicians also confirmed that unlike the previous statement of Ukraine's Interior Ministry, there are no hostages inside the building.
Kiev loses countenance
The reaction in the capital, Kiev, on the developments in eastern regions of the country has been to a certain point hysterical.
A brawl broke out in the Ukrainian parliament after the leader of the Communist Party accused right-wing nationalists of fomenting the split of the country by failing to address the concerns of southeast regions and "eliminating" their independence.
Irina Farion, an MP of nationalist Fatherland Party, went as far as calling for the deaths of citizens in Donetsk, Kharkov and Lugansk.
"I'd act much tougher. I'd just shoot them dead. Look, the enemy is ruling our land. What are we talking about? They should be expelled from here back in 1654 (the year Ukraine aligned with the Russian Empire). That's why today's reaction is unacceptable. The measures should be much tougher. Our people laid down their lives. That's why those creatures that arrive here deserve only death," Farion proclaimed.
You can share this story on social media: