Parliament punch-up: Ukrainian nationalists slammed by opposition for inspiring crisis in southeast
A brawl broke out in the Ukrainian parliament after the leader of the Communist Party blamed right-wing nationalists for fomenting the split of the country by failing to address the concerns of southeast regions and "eliminating" their independence.
A brawl broke out in the Ukrainian parliament Tuesday after the Communist leader blamed the nationalists for encouraging the split of the country by failing to address the concerns of south-eastern regions and "eliminating its independence."
Fistfights in Ukraine's parliament, the Verkhovna Rada, have been a common sight in recent years, certainly before the ousting of President Viktor Yanukovich. A return to brawling on the parliament floor, instead of in the streets outside, might be a sign that the situation in the country is finally stabilizing. On Tuesday, the scuffle occurred toward the end of a speech by Communist Party leader Pyotr Simonenko, who blamed the current crisis on the nationalists.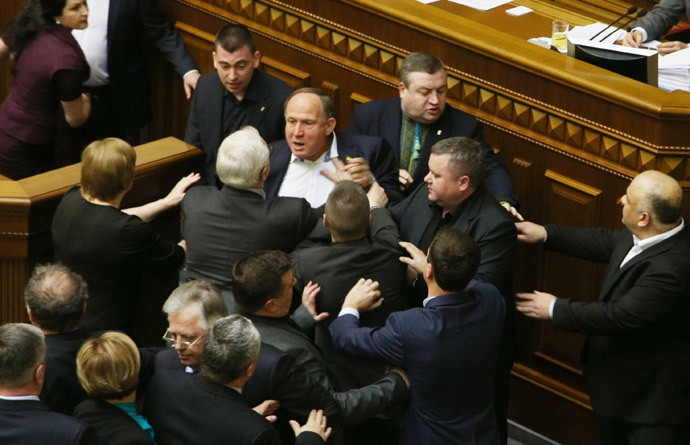 The MP accused the Kiev government of being passive in the southeastern regions, where people demand that authorities address their social problems and make Russian a second official language.
Simonenko said that the new government is describing the activists seizing administrative buildings in the eastern cities of Donetsk, Lugansk and Kharkov as "separatists." And that is while those who were doing exactly the same in western Ukraine before the February coup were referred to as "patriots," Simonenko said.
"I used to claim that nationalists were pursuing pro-American and pro-Western policies, but I was wrong," he said. The MP recalled that radical protesters had seized administration offices and weapon arsenals at an earlier stage of the crisis, thanks to which "thousands of barrels" are still in hands of those who set up armed gangs.
"Was it not you who set an example for such a scenario? You were fulfilling not an American but a Russian scenario on destroying Ukraine's independence," he said.
Following these words, two deputies from the far-right nationalist Svoboda party ran to the rostrum to push Simonenko away. Communist lawmakers rushed to help their leader, with others joining the fray and exchanging punches. The scuffles lasted about five minutes.
Later Tuesday, parliament speaker and acting president Aleksandr Turchinov vowed that MPs should not descend to using fists again and apologized to other lawmakers for the incident. Leaders of all factions condemned the use of any kind of force in parliament and agreed that lawmakers will not use such practices in future, Ukrainian media reported him as saying.
You can share this story on social media: