'Miscommunication' sparks plane hijack alert, Dutch F-16 scrambled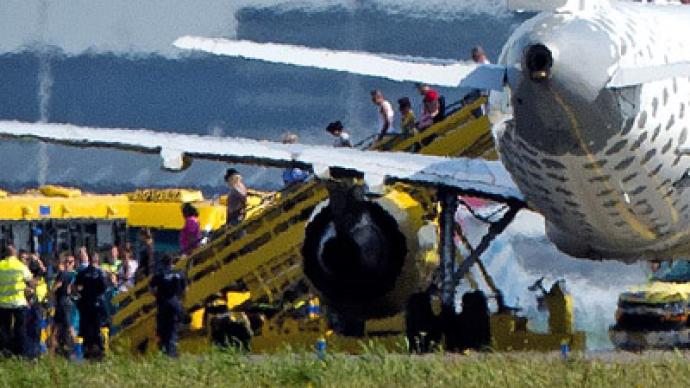 The Dutch military police have allayed fears that a passenger plane en route to Amsterdam from Malaga, Spain, has been hijacked, saying miscommunication between the pilot and Air Traffic Control was to blame for the panic.
Earlier, reports of a possible hijacking spread through the media and social networks. The Dutch defense ministry sent F-16 fighter jets to safely escort the plane, with 183 people on board, to ground. The National Coordinator for Counter-terrorism and Security told reporters military police would determine what was happening after boarding the plane. "Because of the loss of radio contact with the aircraft we escorted the plane to Schiphol airport with F-16 jets. The case is now in the hands  of the military police." According to local media, the passengers were taken from the plane by bus and a SWAT team came onboard to secure the plane. "We first realized something was wrong when we started circling above Rotterdam over and over, and the captain told us there was some problem in Schiphol. We spent about four hours on the ground after arriving," said one of the passengers on board the plane. A spokesperson from Spain's Vueling airline also said the hijack report was due to miscommunication between the pilot and control tower at Schiphol.It is possible the plane had some problems with the transponder responsible for communications with the ATC. Some have suggested that the pilot could have accidentally selected the wrong transponder code, setting it to 7500, which is the international code for 'aircraft hijacking'. This was the second security incident in Schiphol Airport in less that 24 hours. Earlier, parts of the airport were evacuated after a WWII bomb was found by workers. Some flights were cancelled and many more delayed, as work to safely remove the bomb continues.